No room for NATO expansion in coming years – US envoy to alliance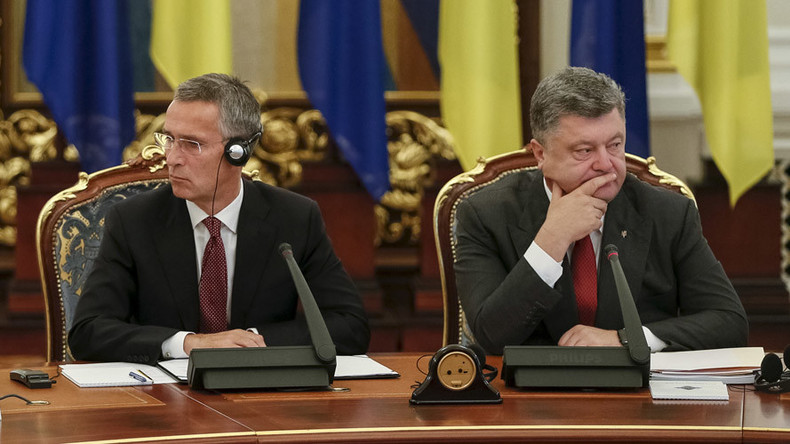 There's not much "additional room" for NATO expansion in the years to come, a US ambassador to the alliance has said, adding that Russia plays an important part in the strategic environment.
Saying that the military bloc is facing an upheaval equal to the times during the last years of the Cold War, it is now time to put "a brake" on NATO expansion, Douglas Lute said Friday.
"I think Russia plays an important part in the strategic environment and the strategic environment will put a brake on NATO expansion," Lute told the Aspen Security Forum in London, as quoted by Reuters.
"In practical terms I don't [think] there's much additional room in the near term, the next several years perhaps or maybe even longer, for additional NATO expansion," he said.
READ MORE: 'Anachronism with no military or mission': NATO foundations crumbled, says Stratfor founder
Citing Russia's alleged "decline," the US envoy said that "it may not make sense to push further now," in order not to "destabilize" the situation.
Only last week, during presidential debates in the US, Democratic Party frontrunner Hillary Clinton said NATO's presence in Eastern Europe was essential to deter what she called "Russia's aggression." Justifying Washington's vast spending on the military bloc, she said: "Think of how much it would cost if Russia's aggression were not deterred because NATO was there on the front lines making it clear they could not move forward."
READ MORE: NATO logic: Russia is a grave threat, but expansion 'nothing to do' with Moscow
While NATO's current 28 allies' policy for consideration of new members hasn't changed, Lute said that it wasn't likely any such invitations would be given out any time soon. The US official particularly mentioned the former Soviet republics of Georgia and Ukraine as unlikely new NATO members in the coming years.
"There's no way we're going to get consensus any time in the near future on adding... Georgia or Ukraine," he said, dismissing Kiev's ambitions to get into the alliance.
Despite Moscow consistently opposing the military alliance's expansion, appealing to the military bloc to avoid provocative steps, NATO keeps enhancing its presence in Eastern Europe. In February, NATO Secretary General Jens Stoltenberg announced that the bloc's defense ministers agreed on "an enhanced forward presence in the eastern part of our alliance."
Having ignored Russia's calls to refrain from expanding into the region, which could potentially destabilize the security situation on the continent, NATO has accepted 12 Eastern European countries since 1999. Its expansion towards Russia's borders was named one of the key security threats in Russia's security strategy for 2016.
READ MORE: NATO & European leaders whip up hysteria over 'myth' of nuclear threat from Russia – Lavrov
Earlier this month, the bloc said it would have a meeting with Russian officials "at ambassadorial level" – the first since all cooperation with Moscow was suspended in 2014. A day before the announcement, Stoltenberg told the media that the military bloc was seeking dialogue with Moscow.