NATO and Russia agree to meet for 1st time in almost 2 years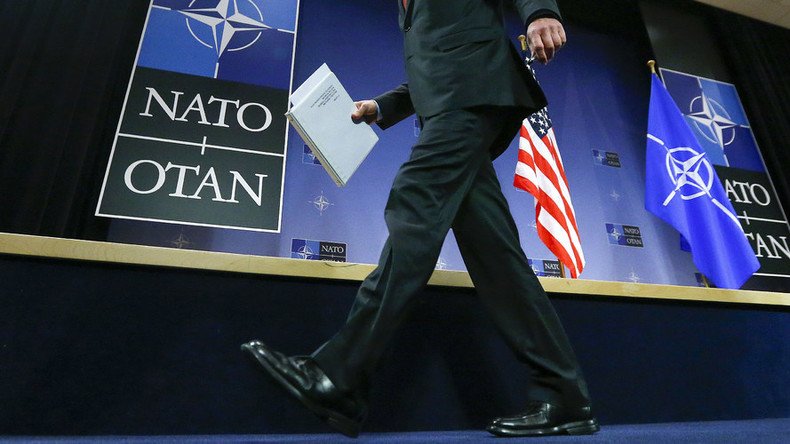 NATO and Russia will meet for the first time since the military bloc suspended all cooperation with Moscow in 2014. Ukraine, Afghanistan, and military relations will be among the topics discussed at the meeting set to be held within the next two weeks.
"Following consultations with Russia, we have agreed to hold a meeting of the NATO-Russia Council at Ambassadorial level," the bloc said in a statement released on Friday. "This meeting will take place in the next two weeks at the NATO headquarters in Brussels," it added.
"The NATO-Russia Council [NRC] will discuss the crisis in and around Ukraine and the need to fully implement the Minsk Agreements. We will discuss military activities, with particular focus on transparency and risk reduction. We will also address the security situation in Afghanistan, including regional terrorist threats."
NATO decided to break off all contact with Russia in 2014, when Viktor Yanukovych was ousted as Ukraine's president during the Euromaidan riots. The last NRC meeting was held in June of 2014.
"This meeting is the continuation of our political dialogue … At the same time, there will be no return to business as usual until Russia again respects international law," the statement said.
On Thursday, a day before the announcement, NATO Secretary General Jens Stoltenberg told reporters in Washington that the military bloc was seeking dialogue with Moscow: "The [NATO-Russia] Council has never been suspended … So the whole idea is that practical cooperation has been suspended, political dialogue has been in place.
"NATO is not looking for a confrontation with Russia. We will avoid a new Cold War. We are counting on a dialogue with Russia," Stoltenberg claimed.
Just a day earlier, however, following a meeting with US President Barack Obama, the NATO chief listed Russia as the alliance's main challenge.
"Together, we are now implementing the biggest reinforcement through our collective defense since the end of the Cold War."
Under what is known as the European Reassurance Initiative, the US will deploy a significant contingent of combat forces on the continent, moving up to three brigades, as well as headquarters and military assets, closer to Russia's border.
Earlier this week, Russia's permanent representative to NATO, Aleksander Grushko, told RT in an exclusive interview that NATO's expansion in Eastern Europe violates its previous obligations not to place significant combat forces on Russia's borders. He added that he believes the recent anti-Russian rhetoric was intended to "breathe new life into NATO," as the bloc continues to fall short in responding to modern security challenges and "combat threats such as terrorism, migration, and many others."
The NATO-Russia council was set up at a NATO-Russia summit in Rome in 2002 to create a forum in which NATO members and Russia could discuss security issues. Within the NRC, NATO member states and Russia are considered equals, and all decisions are taken on a consensus basis.
You can share this story on social media: