NATO scrapped project with Russia that 'could have prevented Brussels attacks' – Moscow's envoy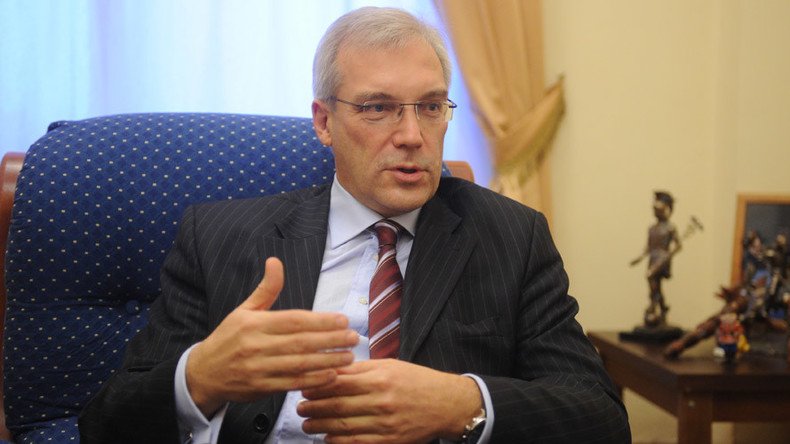 Russia's permanent representative to NATO Aleksandr Grushko has confirmed that a Russia-NATO joint anti-terror project may have been able to stop the attacks that hit Europe in recent months if the program hadn't been scrapped.
[EDITOR'S NOTE: This story has been updated to reflect NATO's position]
"This was a multinational project. It was aimed at preventing terrorist attacks in public places. Full-scale tests that had been carried out in one of the NATO member states showed that if the project had been completed…it would have let us prevent such situations as occurred at Brussels' airport and metro to a significant extent," the diplomat told Rossiya 1 channel, as cited by TASS.
Earlier, a source told TASS that the joint STANDEX (Stand-off Detection of Explosives) project – which was designed to "detect explosives remotely in real time in public places, in the first turn, on public transport systems, metro stations, airports and railway stations" – was based on sophisticated technology which allowed the precise location of bombs planted in large crowds. The system used spectrum analysis of microparticles in the air, and provided the identification of both the presence of explosives and the pin-point location of the person in the crowd.
"One of the key technologies employed in the system was developed by Russia," said Jamie Shea, NATO's Deputy Assistant Secretary General for Emerging Security Challenges back in 2013, as cited by TASS.
According to the source, the technology was successfully tested in a Paris underground station on October 2013 and was supposed to be brought onto the market in the fall of 2015.
At the time of the test, NATO hailed the project, saying that it "could help NATO Allies andRussia prevent terrorist attacks such as those carried out on the public transport systems in London, Madrid and Moscow," while describing it as a "human challenge rather than technological or political: it meant bringing together some very diverse skills and cultures to form a close-knit and committed team," according to the press release.
The first sample of the system was to be installed in late 2015-early 2016 at Brussels Airport, close to NATO's headquarters, according to the source.
"This system would have allowed to secretively identify the Brussels terrorists on March 22 immediately upon their arrival to the terminal," he said.
The project, which was officially launched in 2010 by the NATO-Russia Council, saw experts from French, German, Dutch, Italian and Russian research institutes engaging in its development and testing.
Its final tests were reportedly scheduled to take place in St. Petersburg in the fall of 2014, but the project, which cost an estimated €4.8 million (US$5.4 million), was scrapped due to the sudden cooling in NATO-Russia relations triggered by Crimea's reunification with Russia.
Following the Crimea referendum, which saw an absolute majority of citizens vote in favor of reuniting with Russia, NATO suspended all cooperation with Moscow, condemning the events in Crimea as "military intervention."
UPDATE: A NATO official who got in touch with RT denied the project being scrapped. "Initiated in 2009, the Stand-off Detection of Explosives (STANDEX) project was completed according to schedule at the end of 2013. As planned, STANDEX technology is being transferred to industry for commercialization," the official said.
You can share this story on social media: