NATO boosts Eastern Europe force & drills, ignoring Russia's calls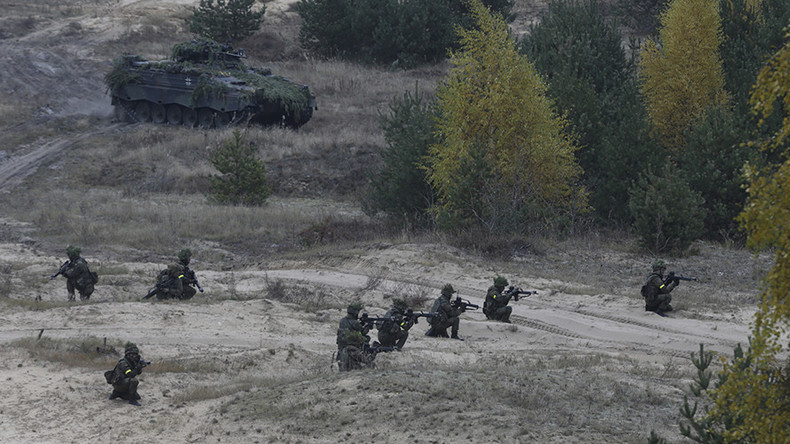 NATO defense ministers meeting in Brussels have agreed to form an "enhanced" rotational force in Eastern Europe and step up military exercises there. The move comes despite multiple Russian appeals to the alliance to avoid provocative steps.
READ MORE: 'Focus on Baltic region': UK bolsters anti-Russian NATO taskforce with 5 warships, troops
"NATO Defense Ministers agreed on an enhanced forward presence in the eastern part of our Alliance," NATO Secretary General Jens Stoltenberg said at the meeting of ministers on Wednesday.
Stoltenberg pointed out that the enhanced presence will be "multinational, to make clear that an attack against one Ally is an attack against all Allies, and that the Alliance as a whole will respond."
"It will be rotational and supported by a program of exercises; and it will be complemented by the necessary logistics and infrastructure to support pre-positioning and facilitate rapid reinforcement. Our military planners will provide the advice on the size and composition of our enhanced presence this spring," Stoltenberg added.
The NATO head also said the block must enhance its cyber defense capabilities, as well as be ready to respond to "hybrid warfare," which includes resilience and civil preparedness. He also praised the Readiness Action Plan adopted at a Wales summit in 2014, which NATO command estimated would cost "several hundred million euros" a year.

"We have increased NATO's presence in the eastern part of the Alliance, with enhanced air policing, maritime patrols and robust exercises," Stoltenberg said, adding that the alliance had provided Turkey with Patriot batteries, Airborne Warning and Control System (AWACS) planes, enhanced maritime presence in the Eastern Mediterranean and Black Sea, and tripled the size of the NATO Response Force to more than 40,000 troops.

Russia has consistently criticized the alliance's purported justification for its latest expansion, which the Foreign Ministry says has been taking place "under the false pretext of alleged 'aggressive behavior' by our country." Critics have noted that the bellicose rhetoric coming from NATO command over a perceived "Russian threat" coincides with lobbying for more military spending in member countries.
Moscow considers NATO's activity in neighboring countries provocative, and its concerns have been borne out by America's military support to the governments of former Soviet states with pronounced anti-Moscow leanings. In, arguably, the hottest interstate military crisis of the past decade, American-trained Georgian troops clashed with Russian forces in 2008 after Tbilisi shelled the South Ossetian city of Tskhinvali in an attack that killed Russian peacekeepers along with hundreds of civilians.

The crisis eventually de-escalated and former US-educated Georgian leader Mikhail Saakashvili fled the country, where he is still wanted for questioning in up to 10 criminal cases, including those involving brutal crackdowns on opposition protesters and money embezzlement. Nevertheless, Tbilisi has stayed the course in seeking NATO membership. Earlier on Wednesday, Stoltenberg said that NATO was going to develop further cooperation with Georgia in the Black Sea.

NATO intensified its military activities in Europe after the eruption of the Ukrainian crisis and Russia's reunification with Crimea in 2014. Last year, the alliance carried out a number of massive military drills including "Trident Juncture 2015," the biggest since 2002, which included 36,000 international troops, as well as more than 60 warships and about 200 aircraft from 30 states.
Russia has long called on NATO to refrain from expanding into Eastern Europe, saying that such moves have the potential to destabilize the security situation in the region. Nonetheless, NATO has accepted 12 eastern European countries since 1999 and now wants to take in one more – Montenegro.

"We have not overcome Europe's division: Twenty-five years ago the Berlin Wall fell, but Europe's division was not overcome, invisible walls simply moved to the East. This created the foundation for mutual reproaches, misunderstanding, and crises in the future," Russian President Vladimir Putin told Bild last month.

"We need to respect each other, each other's interests, and follow the same rules instead of constantly changing them to suit someone's interests," he added.
You can share this story on social media: