'Focus on Baltic region': UK bolsters anti-Russian NATO taskforce with 5 warships, troops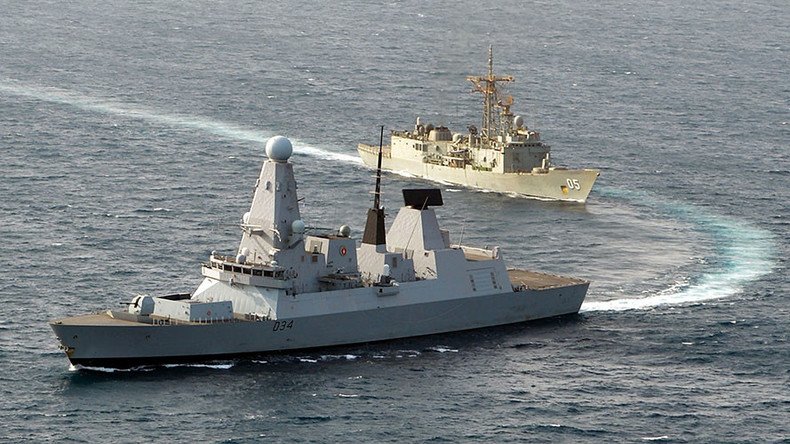 Britain's Royal Navy is preparing to send five additional warships to NATO's maritime force and contribute more troops to the announced 6,000 NATO armored force to be deployed on a rotational basis in six countries bordering Russia.
The decision to deploy HMS Iron Duke (a Type 23 Frigate), a billion-pound-valued Type-45 destroyer (one of six commissioned) and three minesweepers, altogether 530 naval personnel is part of what the British Ambassador to NATO Sir Adam Thomson describes as "a more muscular approach than it has done since the Cold War to enhance its forward presence to the east, and as necessary to the south," as cited by the Telegraph.
"Increasing our NATO deployment sends a strong message to our enemies that we are ready to respond to any threat and defend our allies; 2016 will see a particular focus on the Baltic region with our ships sent there as part of the Maritime Group, the Mine Counter Measure Group and the Baltops exercise," British Defence Secretary Michael Fallon is reported as saying.
The British maritime deployment to NATO is believed to be the first one of a kind in six years.
A considerable contingent of British troops is also likely to be stationed in Eastern Europe as part of a new NATO armored task force of up to 6,000 personnel to be stationed on a rotational basis in six countries, most of which have common borders with Russia, namely Bulgaria, Estonia, Latvia, Lithuania, Poland and Romania, once members of anti-NATO Warsaw Pact or parts of the Soviet Union itself.
"I expect [NATO member states'] ministers to agree to enhance our forward presence in the eastern part of our alliance," NATO Secretary-General Jens Stoltenberg said. "This will bolster our collective defense. And at the same time send a powerful signal to deter any aggression or intimidation.
"The substantial Russian military build-up in Syria and the eastern Mediterranean is shifting the strategic balance and raising tensions in the region."
In late January, however, Stoltenberg stressed that military buildup in Europe didn't mean a return to "the Cold War posture with hundreds of thousands of troops based along the borders."
Last week Washington announced plans to quadruple spending for the military presence in Europe to $3.4 billion to 'deter' Russia's 'aggression'. As US Defense Secretary Ash Carter is preparing to brief other NATO defense ministers on the details of American plans for Europe, half of that sum is going to be spent on "pre-positioning" of American military hardware (tanks, artillery and other stuff) to Western Europe with developed logistic for fast relocation to Eastern Europe - closer to Russian borders - when needed, the Guardian reported.
The agenda of a two-day NATO meeting beginning in Brussels on February 10 is also dominated by Russia.
Although there is an agreement between Moscow and NATO not to deploy troops along Russian borders on a permanent basis, the alliance has dodged the uncomfortable treaty by deploying troops to Eastern Europe on rotational basis.
US Ambassador to NATO Douglas Lute insists that bolstering the bloc's military might along Russian borders poses no threat to Moscow.
"It isn't provocative towards Russia and it does not violate the NATO-Russia Act," he said. "This is not an aggressive move. NATO has not invaded anyone lately," Lute said, stressing that this deployment is going to be "less expensive because we can use the old Cold War bases."
Russia's envoy to NATO Aleksandr Grushko has promised that the deployment of NATO forces in Eastern Europe will not be left unanswered militarily.
"Russia won't compromise its security interests," Grushko said.
America's national intelligence director, James Clapper, told the Senate Armed Services Committee on Tuesday that Russia represents a threat to the US in every sphere, from the Arctic to Ukraine and from Earth's orbit to cyberspace.
You can share this story on social media: