French couple decorates Russian hero of Syria op with family's WWII medals
Russia's embassy in Paris reports that a French couple has sent the family's WWII medals to the diplomatic mission, to be handed over to the family of a Russian officer who was killed in action in Syria.
The Magues, a couple from the city of Florensac in France's Languedoc-Roussillon-Midi-Pyrénées region, decided to hand over WWII decorations earned by family members to the widow and parents of young Russian officer Aleksandr Prokhorenko, who died in Syria while taking part in the operation to liberate the ancient city of Palmyra.
One of the military decorations the French family passed to Russia is a medal of Chevalier of the Legion of Honor. It had been given to an uncle of the family for being deported to Buchenwald concentration camp after taking part in the Resistance at the age of 17.
The other is a War Cross with Bronze Palm Leaf, with which one of the couple's father was decorated for flying combat missions as a bomber pilot with the Lotharingia group, a part of France's 2nd Armored Division.
The Magues told Russian diplomats that they decided to make the extraordinary gesture out of sympathy to Russia and its efforts in fighting global terror.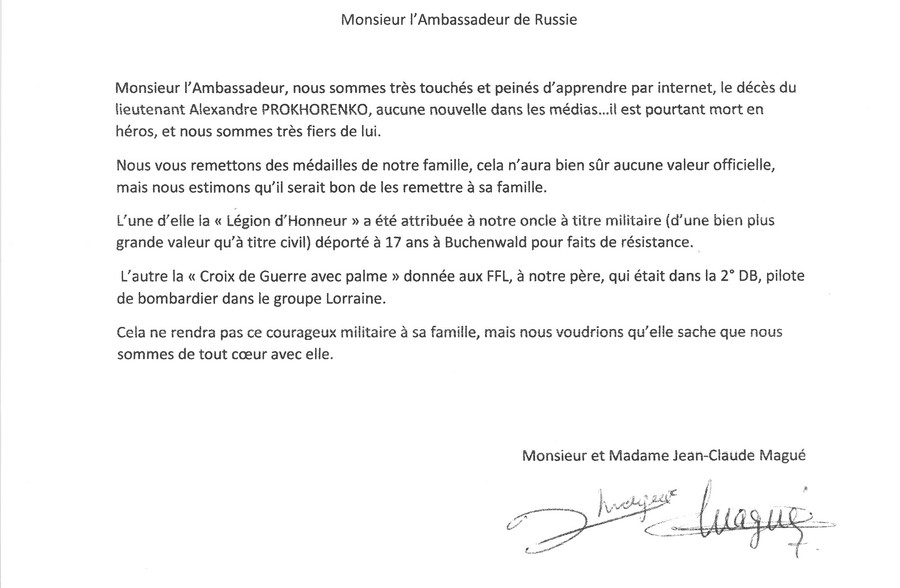 The married couple conveyed deep outrage with the position of the French media that paid little or no attention to Prokhorenko's act of heroism. The Magues shared the hope that their cordial action might support the officer's widow and parents, and expressed readiness to pass some WWII archival documents in their possession to Russia.
In the course of the joint Syrian-Russian operation, Prokhorenko, a 25-year-old Russian special forces officer tasked with guiding Russian warplanes to terrorist targets, called an airstrike on himself when his position was compromised and surrounded by the militants.