Schools, healthcare facilities under threat as violence spreads in Afghanistan – UN report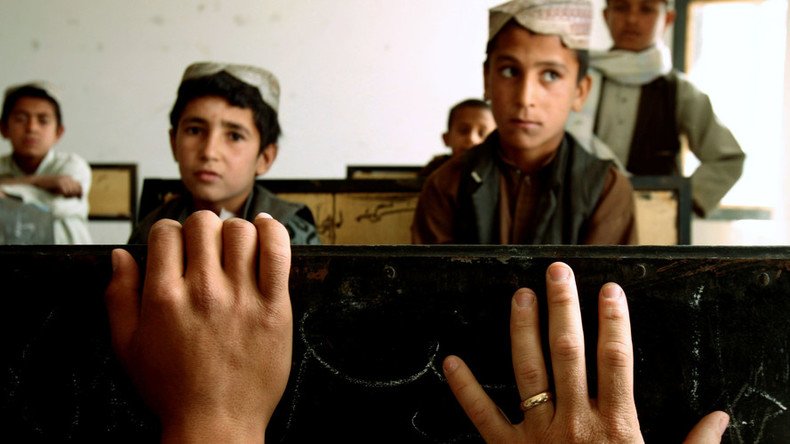 Schools and healthcare facilities are under increasing threat as violence spreads in Afghanistan, according to a United Nations report. Afghan forces are struggling to battle Taliban militants, who have recently made significant strides in the country.
The report, jointly produced by the UN Assistance Mission in Afghanistan (UNAMA) and the UN Children's Fund (UNICEF), cites the side-effects of the violence between Western-backed Afghan forces and Taliban insurgents, who are at their strongest since being ousted by US-backed Afghan forces in 2001.
Covering a three-year period from January 1, 2013 to December 31, 2015, the document cites 125 incidents affecting access to healthcare in 2015, compared to 59 in 2014. Those incidents include 20 health workers killed, 43 injured, and 66 abducted.
Most of those killed in 2015 lost their lives in an attack by a US warplane on a Medecins San Frontieres hospital in the northern city of Kunduz in October. (RT LINK h)
Some 132 conflict-related incidents affecting access to education and education-related personnel are also documented in the report, including 11 education personnel killed, 15 injured, and 49 abducted – a dramatic increase from 2014.
Overall, the 257 incidents recorded in 2015 represent an increase of 182 percent compared with 2014. Most of the incidents involved threats and intimidation, including death threats; assaults on health and education personnel; forced closures of schools; letters prohibiting school attendance, particularly against girls; and extortion and other "harmful acts."
The UN report also cites incidents of improvised explosive devices detonated near schools and clinics, killing and injuring healthcare and education personnel.
"It is simply unacceptable for teachers, doctors and nurses to be subjected to violence or threats, and for schools and medical facilities to be misused or attacked," Nicholas Haysom, the UN Secretary-General's Special Representative for Afghanistan, said in a statement.
Conflict-related violence also led to the closure or partial closure of more than 369 schools in 2015, affecting more than 139,000 students and 600 teachers, according to the report.
Girls face the most threat in the country, according to the report. This is due to their increased vulnerability to attacks, threats, and restrictions on female education.
"Efforts must be redoubled to enable children – particularly girls – free and safe access to medical services and education," said Danielle Bell, UNAMA human rights director.
One of the hardest-hit areas was the eastern Nangarhar province, which borders Pakistan, where insurgents linked to Islamic State (IS, formerly ISIS/ISIL) forced the closure of at least 68 schools and 11 clinics.
Militant groups were blamed for the majority of documented incidents, though pro-government forces were also reported to have harassed healthcare workers and used schools as fighting positions.
The report makes recommendations to all sides of the conflict, which are aimed at enabling children's access to education and healthcare.
"All parties must take measures to protect education and health services in Afghanistan," Haysom said.
The report comes just days after five Afghan security officials were killed in fighting, as the Taliban launched its spring offensive.
Afghan security forces have struggled with heavy casualties and high desertion rates during their fight against the Taliban, while the militant group has only gained strength.
Meanwhile, US troops in Afghanistan are expected to be scaled back by early 2017. The current plan replaced Washington's former goal of withdrawing the majority of soldiers in 2014. The change was seen as a turn-around from President Obama's campaign promise to bring troops home, as well as his assurance that he does not support the "idea of endless war."
US General John Nicholson, who took over as commander of international troops in Afghanistan last month, is currently conducting a strategic review of the situation in Afghanistan, including the plan to cut US troops down to 5,500.
It the current plan goes unchanged, the reduction in US troops would signal the end of most of NATO's training and assistance operation, leaving the remaining soldiers to focus on counter-terrorism operations against radical groups such as IS. Plans to completely remove all US troops from Afghanistan have not been announced.
You can share this story on social media: