5 Afghan border officers killed in insider attack as Taliban announces spring offensive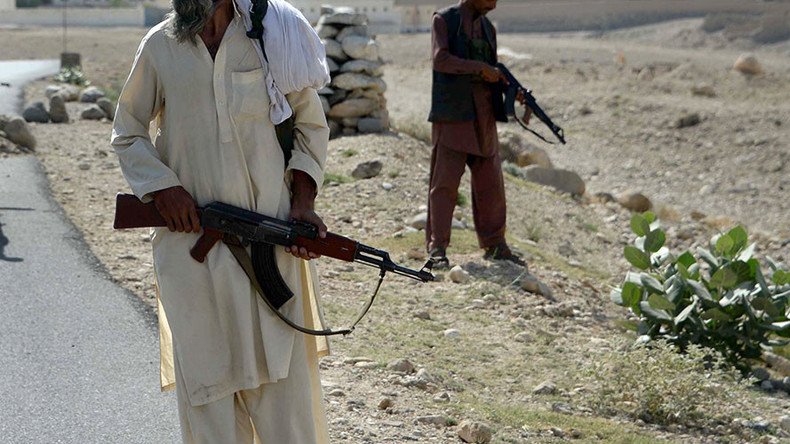 At least five members of Afghanistan's border police were killed in an insider attack in Kandahar when a colleague opened fire on them before fleeing, according to government officials. The attack came as the Taliban announced its spring offensive.
"Late last night, a border policeman opened fire on his colleagues and killed five of them. He crossed the border and went to Pakistan," Sameem Khapalwak, a spokesman for the provincial governor, told Reuters, adding that an investigation into the incident has begun.
The incident occurred at a frontier post in the Wesh area of the Spin Boldak district, not far from Afghanistan's border with Pakistan.
A border police official said on condition of anonymity that seven officers had been killed in the attack, and that the perpetrator had gone over to the Taliban.
The Taliban also said that its forces had killed seven border police, seizing weapons and other equipment.
Insider attacks by soldiers and policemen have become increasingly common in the 15-year war that has engulfed the country, as the Taliban continues its efforts to overthrow the Kabul government.
Spring offensive
The Taliban announced its spring offensive on Tuesday, pledging to launch operations against government strongholds and guerrilla attacks to drive Afghanistan's government from power.
Dubbed 'Operation Omari' – named after the late Taliban founder Mullah Mohammad Omar – the offensive will also include assassinations of "enemy commanders," the Islamist group said in a statement.
The changing seasons tend to shape violence in Afghanistan each year, with fighting easing off in the winter, as mountain passes receive heavy snowfall. The violence usually picks up again in spring and summer.
The announcement came just days after US Secretary of State John Kerry visited Kabul and confirmed Washington's support for a national unity government led by President Ashraf Ghani.
Hours before the Taliban's announcement, the US embassy in Kabul issued an emergency warning to US citizens, saying it had received reports that militants were planning attacks on a major hotel in the city.
Struggling security forces
In its first year fighting largely alone, Afghan security forces have struggled with heavy casualties and high desertion rates, while the Taliban insurgency has gained strength since the withdrawal of international troops from combat at the end of 2014.
Afghan forces are short on air power, transport, and logistical support, while the Taliban is stronger than at any point since they were driven from power by US forces in 2001. And though the Taliban exert control over only six percent of Afghanistan, NATO commanders say that one-third of the country is at risk from the insurgents, and that government forces control no more than 70 percent of the country.
President Obama canceled Washington's initial plan to withdraw the majority of US troops in 2014, shifting to a plan to scale back forces by early 2017. At that point, 5,500 would remain in the country to work with Afghan forces – down from the current 9,800 soldiers. The decision was seen as a turn-around from Obama's campaign promise to bring troops home, and his repeated assurance that he does not support the "idea of endless war."
US General John Nicholson, who took over as commander of international troops in Afghanistan last month, is currently conducting a strategic review of the situation in Afghanistan, including the plan to cut US troops down to 5,500.
It the plan goes unchanged, the reduction in US soldiers would signal the end of most of NATO's training and assistance operation, leaving the remaining troops to focus on counter-terrorism operations against radical groups such as Islamic State (IS, formerly ISIS/ISIL).
Plans to completely remove all US troops from Afghanistan have not been announced.
You can share this story on social media: