UK-trained Afghan soldiers defect to Taliban amid new spring offensive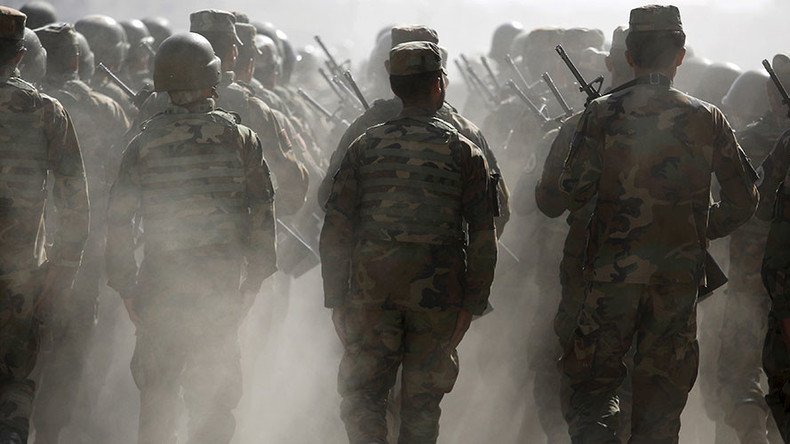 Afghan Army soldiers are deserting to join the Taliban as the resurgent jihadist group announces its spring offensive and vows to drive out the "foreign invaders."
The Afghan National Army (ANA) had been the great hope for an indigenous-led security solution when UK combat operations ended in 2014 – a hope which has not materialized.
Local forces were also a key component of US and UK withdrawal strategy in that they supposedly offered, some felt, a route by which the occupying forces could train their way out of the quagmire.
However, with the Taliban now controlling large swathes of the country, including the symbolic town of Lashkar Gah in Helmand Province where more than 100 British troops died during the occupation, Afghans soldiers are swapping sides.
In an interview with CNN published on Tuesday, two deserters explained their rationale.
"I did 18 months of army training and took an oath to serve this country," one man said.
"But the situation changed. The army let us down, so we had to come to the Taliban, who treat us like guests."
The other said he decided to leave the army when nobody came to take away his dead and wounded comrades from their base in Helmand.
"My army training is very useful now, as I am training Taliban fighters with the same knowledge," he added.
With the changing seasons, fighting in Afghanistan follows a regular pattern. The Taliban has called this year's offensive Operation Omari, after its late spiritual leader Mullah Omar. The fundamental aim remains unchanged: forcing the withdrawal of all occupying forces.
"Jihad against the aggressive and usurping infidel army is a holy obligation upon our necks and our only recourse for re-establishing an Islamic system and regaining our independence," it said in a statement published by the Guardian.
It promised suicide attacks and assassinations of high-ranking government officials, saying its aims are "to bog the enemy down in a war of attrition that lowers the morale of the foreign invaders and their internal armed militias."
The Taliban was considered a spent and scattered force following the 2001 invasion, but has since grown in strength.
Some experts believe this was because the insurgent group was able to coalesce around bolstered troop numbers poured into the country in 2006. The operation effectively served to unify resistance.
Critics of the war cite the words of the commander of British Special Forces unit 22 SAS, who, after patrolling the region in late 2005 ahead of a proposed escalation, told the UK government: "There isn't an insurgency in Helmand. But we can give you one."
You can share this story on social media: