Death toll from US Kunduz hospital bombing rises to 23, as MSF confirms another staffer dead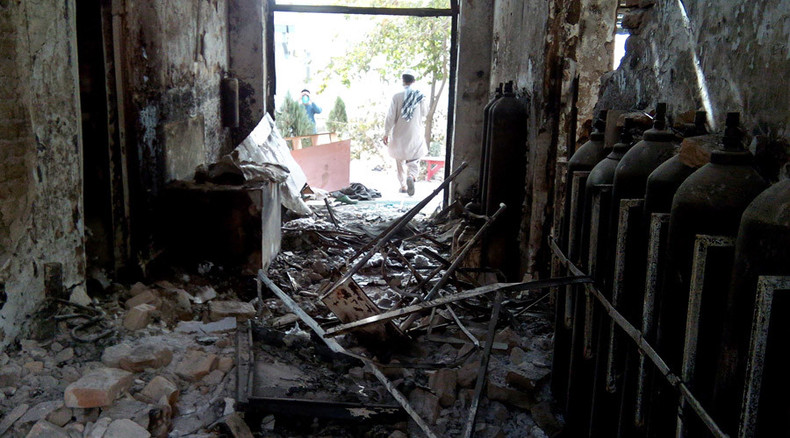 The international medical charity, Doctors Without Borders, has confirmed the death of another staff member, bringing the total death toll from a US airstrike on a hospital in northern Afghanistan to 23.
The group, also known as MSF based on the French name Medecins Sans Frontieres, said in a statement that the death toll from the October 3 attack on the hospital where their staff was working in the Afghan city of Kunduz now stands at 23, including 13 MSF members and 10 patients.
MSF is still trying to identify seven of the bodies found in the wreckage.
The organization, which lost 13 of its employees in the attack in Kunduz, has called for an independent investigation into the deadly US bombing to determine whether the attack can be regarded as a war crime.
"If we let this go, as if it was a non-event, we are basically giving a blank cheque to any countries who are at war," MSF International President Joanne Liu said earlier in October.
Liu added that MSF wants the International Humanitarian Fact-Finding Commission to conduct an investigation into the Kunduz attack.
READ MORE: Blame Game: NYT, CNN play it coy naming perp in Afghan hospital bombing
The head of the international medical charity spoke out shortly after the attack, voicing concerns that the US strike may have been deliberate, and not accidental, as "the extensive, quite precise destruction of this hospital ... doesn't indicate a mistake."
"The hospital was repeatedly hit both at the front and the rear and extensively destroyed and damaged, even though we have provided all the coordinates and all the right information to all the parties in the conflict," Christopher Stokes, general director of MSF, told AP.
The attack saw an American Lockheed AC-130 gunship repeatedly bombed the hospital for over an hour, despite calls to Afghan, US and NATO to stop it, MSF said earlier.
The Pentagon initially attempted to shift responsibility onto Afghan security forces, claiming that they had requested the airstrike.
Commander of the US and NATO forces in Afghanistan, General John Campbell, later admitted the decision to bomb the hospital was a "US decision made within the US chain of command," while maintaining the US would "never intentionally target a protected medical facility."
READ MORE: Obama 'apologized' to MSF for Kunduz hospital strike – White House
US President Barack Obama has apologized to MSF, vowing a "transparent, thorough and objective accounting."
The majority of the media accurately attributed responsibility for the airstrike to the US following the attack. However, the New York Times and CNN engaged in obfuscation games, trying to hide the facts.
LISTEN MORE:
US journalist, Glenn Greenwald, best known for his role in bringing former US intelligence analyst Edward Snowden's revelations about illegal American surveillance to light, wrote in the Intercept, an online magazine, that CNN was reporting that an "aerial bombardment" destroyed the hospital "around the same time as a US airstrike."