Obama 'apologized' to MSF for Kunduz hospital strike – White House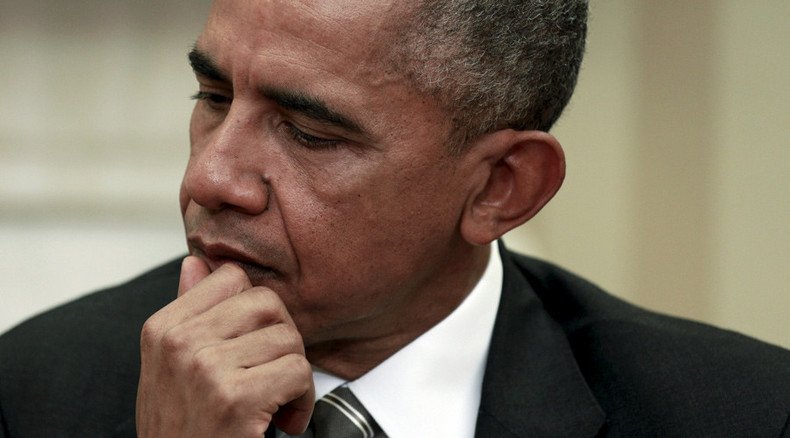 US President Barack Obama has apologized to Doctors Without Borders (MSF) for the deadly US airstrike that killed the agency's staff and patients in Kunduz, Afghanistan.
"This morning from the Oval Office, President Obama spoke by telephone with Doctors Without Borders International President Dr. Joanne Liu, to apologize and express his condolences for the MSF staff and patients who were killed and injured when a US military airstrike mistakenly struck an MSF field hospital in Kunduz, Afghanistan over the weekend," White House press secretary Josh Earnest said in the White House briefing.
READ MORE: Kunduz hospital mistakenly struck - top US general in Afghanistan
Earnest described the hospital bombing as a "terrible tragedy," saying that neither he nor anyone else had any evidence that it was anything more than a mistake.
MSF has called for an independent investigation of the attack, calling it a war crime.
"Under the clear presumption that a war crime has been committed, MSF demands that a full and transparent investigation into the event be conducted by an independent international body," MSF General Director Christopher Stokes said in a statement on Sunday.
Joanne Liu later said that Doctors Without Borders "reiterate our ask that the US government consent to an independent investigation led by the International Humanitarian Fact-Finding Commission."
"If we let this go, we are basically giving a blank cheque to any countries at war," Liu said. "If we don't safeguard that medical space for us to do our activities, then it is impossible to work in other contexts like Syria, South Sudan, like Yemen."
MSF is set to decide whether the charity will seek criminal charges for loss of life and damage. Liu told reporters on Wednesday that the commission's inquiry would first gather accounts from the United States, NATO, and Afghanistan.
The Pentagon initially attempted to shift responsibility onto the Afghan security forces, claiming that they requested the airstrike.
Commander of the US and NATO forces in Afghanistan, General John Campbell, later admitted the decision to bomb the hospital was a "US decision made within the US chain of command," while maintaining the US would "never intentionally target a protected medical facility."
President Obama has vowed a "transparent, thorough and objective accounting" of the incident, Earnest said.
The Pentagon will be looking at policies, procedures and decisions made in course of the attack, to determine if any reforms are needed, Earnest said, referring any inquiries about the indemnity for the victims to the Pentagon.
"If it is necessary to hold individuals accountable, that will be done," the White House spokesman added.
The deadly airstrike on the hospital in Kunduz killed 22 people, including 12 MSF staff and 10 patients.
"Our patients burned in their beds, MSF doctors, nurses, and other staff were killed as they worked. Our colleagues had to operate on each other," Liu said.
However, this was only the most recent case of civilian deaths caused by US forces.
In January 2015, a US drone strike killed three hostages, including an Italian, Giovanni Lo Porto, and one American aid worker, Warren Weinstein, as it hit a border region between Afghanistan and Pakistan. At the time, the US claimed that it believed the area where it had launched two drones was clear of civilians.
LISTEN MORE:
You can share this story on social media: