Swiss tank battalion could be sent to Italy border to stop 'migrant onslaught' - report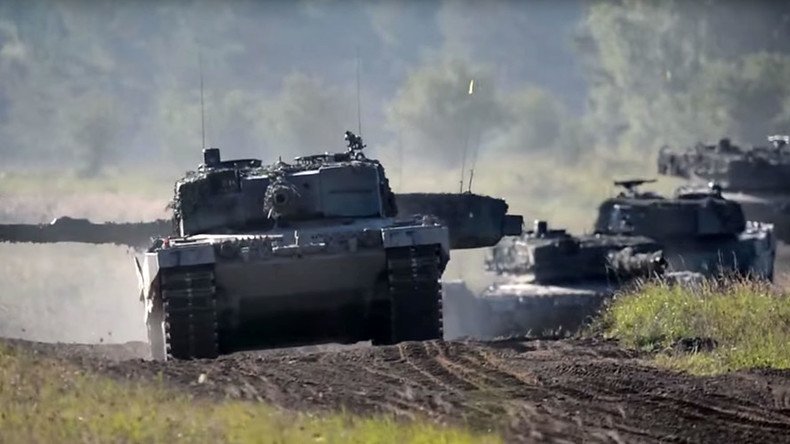 Switzerland is prepared to put tanks on its border with Italy to deal with the European refugee crisis, Swiss media reports. A security director for one of the cantons said the nation must prepare for a possible "migrant onslaught."
"We expect a significant increase in the number of refugees this summer. If Austria now closes off the Brenner Pass, Switzerland will become the only gateway to Northern Europe. Before that, we have to protect ourselves," said Norman Gobbi, the security director of the Swiss Canton of Ticino, as quoted by Austrian newspaper Kronen Zeitung.
The Swiss region has some 2,000 soldiers of the Swiss Tank Battalion on standby, all of whom have been asked to postpone vacations in order to be available at short notice, Swiss daily Blick reported.
"The refugees mainly take routes outside of the official border crossings. We must prepare ourselves for a possible migrant onslaught," Gobbi said, adding that 169 refugees have illegally crossed the border between Italy and Switzerland in the past week.
Gobbi's statements come just one day after Austria's defense minister, Hans Peter Doskozil, said that his country is prepared to close its border if Italy does not manage to bring the refugee crisis under control.
"We have to go on the offensive," Doskozil said on Wednesday night, referring to tightened border controls. The statement was met with criticism from Italy.
It wasn't the first time that Doskozil had made such a statement. Earlier in April, he said that Austria would deploy troops at its border checkpoint with Italy. The comment was met with protests from pro-refugee activists.
Since the beginning of the year, Italy has taken in more than 16,000 refugees – up from just over 10,000 during the same period of 2015, according to the Interior Ministry. Most were rescued from smugglers' boats off the Libyan coast and brought ashore in Sicily by the Italian Coast Guard.
The government is expecting the numbers of new arrivals to be double that of last year.
The dangerous crossing from North Africa to Sicily was the most popular route to Europe as the refugee crisis worsened in the early months of 2015, but the deteriorating situation in Libya and rise of a new smuggler train over the Aegean and through the Balkans tipped the scales to Greece by June 2015. However, refugees in Greece have been stuck there since February, after Macedonia and other Balkan countries closed their borders.
The situation in Greece and Italy are part of Europe's wider refugee crisis, the worst since World War II. Over a million asylum seekers arrived to the continent in 2015, mostly from Syria, where a civil war has killed 250,000 people and displaced more than 12 million since 2011, according to UN figures.
The EU struck a deal with Turkey in March, under which illegal migrants reaching Greece from Turkey are returned. In response, the EU agreed to take in thousands of Syrian refugees directly from Turkey. However, the deal has since been criticized by human rights groups who have questioned whether Turkey is a safe place for migrants to be returned to. That skepticism was strengthened after Amnesty International revealed that Turkey has returned thousands of Syrian refugees to the war-torn country since mid-January.
You can share this story on social media: