Migrant smugglers use Facebook to promote Turkey-Italy trips bypassing sealed Balkan route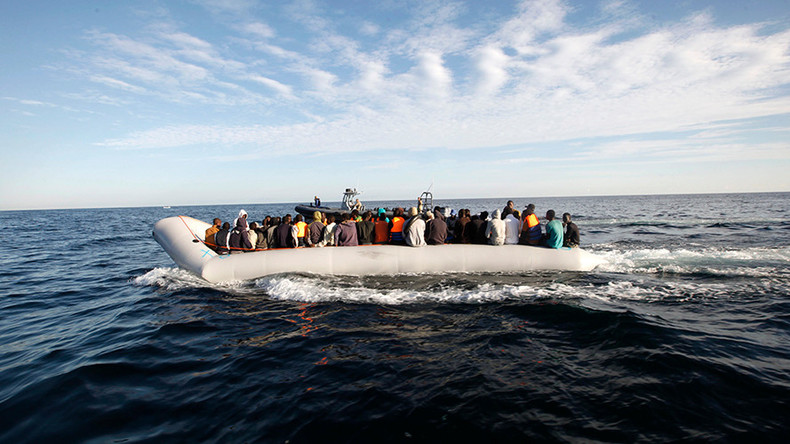 In an apparent effort to save their business following the EU-Turkey deal to deport illegal migrants from Greek islands, smugglers have launched a Facebook ad campaign offering refugees trips via Italy instead of the previously popular Balkan route.
The advertisement that appeared on Thursday on Facebook sold trips for $4,000 per person. It offered migrants a passage from Mersin port on the Mediterranean coast of southern Turkey into Italy.
"The trip is on Saturday, from Mersin to Italy, on a merchant ship 110 metres long, equipped with food, water, life jackets and medicine," the post read.
According to the Guardian, a number of replies to the post raised a red flag about the ad being a potential scam, reminding people that similar advertisements dating back to 2014 were used to lure people in without ever delivering on their promise to get them into the EU.
To calm the fears of those unwilling to participate in the smuggling scheme and cough up a large sum which is four times more than the black market tariffs for smuggling people into Greece, the ad's author even claimed that that passengers' cash would be held by a third party trusted by both the smugglers and passengers.
The publication reached out to the owner of the ad who said that this had been the first time in month he had arranged this sort of trip. He refused to disclose the entry point in Italy. Facebook told Reuters on Friday that the company is the process of investigating the report and looking into the origins of the ad.
The deal between Turkey and the European Union (EU) to send migrants back to Turkey came into effect on March 20, theoretically closing the so-called "Balkan route". Since then, traffickers have been hustled to devise new routes in order to bring migrants into the EU, primarily through Italy.
Past experience has shown that human traffickers used so-called "ghost ships" to smuggle migrants to Europe. A number of international organizations such as UNHCR, IOM and Frontex have expressed their concern about the ghost ship strategy, in which the smugglers use old, unsafe and quite large cargo ships which, according to survivors' accounts, are then abandoned by their crews crew close to the shores. These ships in the past two years usually ended up being rescued by the coast guard.
While the practice of smuggling people from Turkey into Italy has been almost abandoned, the EU-Turkey agreement might reactivate the networks driven by high demand.
"Departures from Turkey are a possibility, but I remember that in January 2015 the so-called ghost ships were blocked at sea by Turkish authorities," said a spokesman for the International Organization of Migration (IOM).
While IOM is yet to detect any new smuggling attempts from Turkey into Italy, the spokesman assured the Guardian that "it is not going to be easy, even now."
More than a million migrants and refugees crossed into Europe in 2015, compared with just 280,000 the year before. The migrant crisis continues, with more than 135,000 people having arrived in the first two months of 2016.
Over the past two years, Italy has been dealing with migrants smuggled into Europe from North Africa. The chaos in Libya in particular has given traffickers freedom to exploit migrants and refugees desperate to reach the EU.
Figures released in March by the Italian interior ministry say that far this year, the country has documented over 16,000 arrivals this year, compared with a bit over 10,000 in the same period in 2015.
"Italy has a widespread system of emergency structures supported by the regions. Reconverted hotels, former schools... we will continue to find places," Flavio di Giacomo, Italy spokesman for IOM told AFP last week.
In the meantime, Germany has announced that it will start receiving Syrian refugees under the new migrant-swap scheme starting on Monday.
The agreement reached between EU and Turkey stipulates that migrants reaching Greek islands who are found not to qualify for asylum will be detained and returned to Turkey, as part of a bid to curb flows to Europe and discourage smugglers. For every Syrian returned, another Syrian in Turkey will be relocated to a European country.
"The first Syrian refugees within the framework of the EU-Turkey agreement will arrive in Germany on Monday. They will be placed in Friedland in Lower Saxony," a representative of the internal affairs ministry told RIA, adding that migrants will comprise "mostly of families with children."
You can share this story on social media: