Austria to deploy troops at Alpine border to stop refugees coming through Italy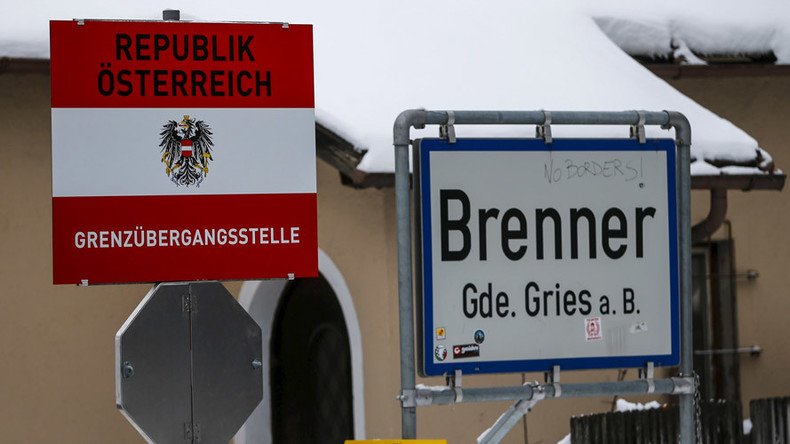 Austria is concerned that it may soon face an inflow of refugees coming through Italy and is considering deploying troops to handle it. This comes as the EU's refugee deal with Turkey is about to be enforced.
In February, Austria introduced border restrictions, as did the Balkan countries. It resulted in a sharp decline in the number of new arrivals in Germany, the primary destination of asylum seekers. In March, less than 5,000 refugees entered Germany from Austria, the German Interior Ministry reported on Saturday, compared to 38,570 in February and 64,700 in January.
However, with navigation in the Mediterranean Sea becoming less risky, the flow may soon switch from the Turkey-Greek route to the longer Libya-Italy one. Austrian officials are preparing for the contingency and may deploy troops at the border with Italy, Defense Minister Hans Peter Doskozil told news outlets on Saturday.
"As the EU's external borders are not yet effectively protected, Austria will soon ramp up strict border controls. That means massive border controls at the Brenner (Pass), and with soldiers," Doskozil told the German daily Die Welt.
In a separate interview with the Austrian newspaper Oesterreich, he said the number of soldiers involved in border control would depend on the needs of the mission.
"From the state of Tyrol alone, there are three companies with 100 men each ready to deploy," Doskozil said. "If we need more forces for border protection, we'll get them."
The Austrian military could help with border protection, migrant registrations, the humanitarian effort and deportations, he said.
Doskozil earlier suggested using military force to strengthen the mission of the Frontex EU border agency, which is helping Greece tackle the refugees. Under the deal between Brussels and Ankara, Frontex must hire some 4,000 personnel, including judges, interpreters and border guards, who would process asylum applications and handle deportations to Turkey. The Austrian minister argued that military personnel could handle some of those jobs while recruitment of civilians is underway.
The deal, under which Turkey agreed to help curb the inflow of asylum seekers into Europe in exchange for financial and political pay-off from the EU, comes into effect on Monday. Critics say the deal is half-baked and gives the Europeans an incentive to turn a blind eye to human rights abuses committed by Turkey.
You can share this story on social media: