'Backslide on fundamental freedoms': MEPs want Turkey migrant deal untied from EU accession talks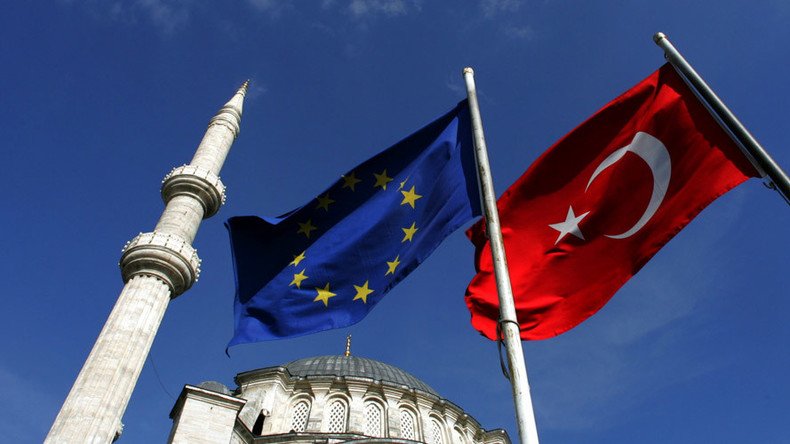 The cooperation between the EU and Ankara on the migrant crisis should not influence a decision on Turkey's membership in the 28-nation bloc since there is still need for "urgent reforms in key areas," the European Parliament has said in a non-binding resolution.
The talks on Turkey's EU-membership should not speed up in the face of the last month's Joint Action Plan struck between Ankara and Brussels, states the resolution agreed on by the European Parliament on Thursday.
The EU legislators have denounced what they called a "serious backsliding on fundamental freedoms," including the growth of clashes in the southeast of Turkey and government's "violent and illegal take-over of several newspapers including Zaman."
"The overall pace of reforms in Turkey has not only slowed down but in some key areas, such as freedom of expression and the independence of the judiciary, there has been a regression, which is particularly worrying", European Parliament rapporteur Kati Piri said.
Unless Turkey takes measures to "match the EU's commitment to the rule of law and fundamental values, which are core European values," its accession into the bloc may fall under question, the resolution implies.
The EU-Turkey deal signed in March and aimed at setting up "a safe and legal" route to Europe stipulates sending illegal migrants to Turkey in exchange for the same number of Syrian refugees to be taken to Europe.
Ankara also vowed to step up border controls and engage in tighter cooperation with Greece, which is the next country after Turkey on migrants' way across the Mediterranean.
In return for its help in dealing with the refugee flow, Turkey was promised up to €3 billion ($3.4bn) in aid, visa privileges and a new round of membership talks. Apart from that, Turkey wanted to be on list of "safe countries" for asylum.
However, just recently Turkey was called "not safe country for refugees" by Giorgos Kosmopoulos, head of Amnesty International in Greece as a research conducted by the organization showed it has been forcibly sending back around 100 refugees to war-torn Syria every day, violating their right for asylum.
Apart from that, Ankara has failed to notify local authorities on the arrival of refugees and didn't take into account the lack of necessary facilities and infrastructure to provide refugees with normal living conditions.
The deal along with President Erdogan's criminal complaint against a comedian, who read a satirical poem about him, have stirred a heated debate at the EU Parliament session on Wednesday with some saying that Europe is being involved into "Turkish bazaar politics."
You can share this story on social media: