EU parliament chief warns of bloc's 'implosion,' says people lost trust in 'entire institutions'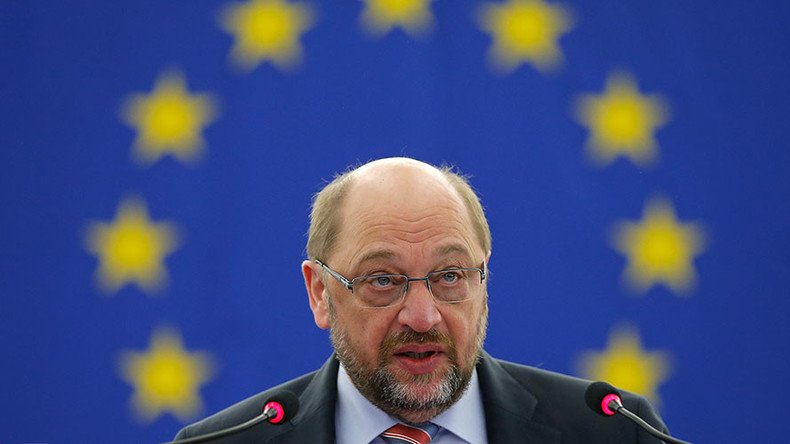 Many people have lost trust in "entire institutions, whether national or European," EU parliament Chief Martin Schulz says. He sounded the alarm over a possible "implosion of the EU" due to the underestimated Euroskeptic movements in member states.
"Europe has been on a sliding slope for some time now. Many people's trust in institutions, whether national or European, has gone," Schulz said in an interview with the Frankfurter Allgemeine Zeitung newspaper.
"Hardly any of the governments is fighting to reach the hearts of the people," Schulz said, blaming heads of states and administrations for the loss of confidence.
There is a high risk of an "implosion of the EU," Schulz added.
"If the British leave the EU, there will be [other] demands for further escape referendums," he warned.
The UK is holding a referendum on its membership in the EU on June 23. All British citizens who have lived in the UK at some point during the last 15 years are allowed to vote. The latest ORB poll for the Telegraph has meanwhile revealed just a 1 percent gap between Brits who want to stay in the EU and those who want to leave. The survey found that 49 percent supported staying 'In' while 48 percent wanted 'Out'.
As things stand now, Schulz says he doesn't consider it possible for right- and left-wing populists to come to power in EU member states. While Euroskeptics are still in the minority, "the silent majority seem to be under the misapprehension that everything will go well in the end," he noted, adding that the outcome of the Dutch referendum on the Association Agreement with Ukraine showed that one "should not rely on [a fallacy]."
After 61 percent of Dutch voters rejected Ukraine's association with the EU in a referendum vote last week, Luxembourg's foreign minister argued that such referenda cannot be regarded as an instrument of parliamentary democracy, being a "slap" to the entirety of Europe instead.
Schulz has meanwhile called for institutional reforms to make the EU more effective.
"The EU has been created as a tool for solving problems, but many people share an impression that it is rather part of the problem than a solution."
Among the major challenges testing the EU's integrity is the bloc's severe refugee crisis, thought to be the worst since World War II (with over a million migrants arriving to the continent in 2015.) Most of the refugees are from Syria, where 250,000 people have been killed and over 12 million displaced since a civil war broke out in 2011, according to UN figures.

A recent poll showed that the majority of Germans believe that the EU-Turkey deal on refugees is actually a bad idea and will not work.
Under a plan, agreed in Brussels late last month, all migrants arriving in Greece from Turkey would be returned. For each Syrian sent back, another Syrian already in Turkey would be resettled in the EU. Turkey had been offered extra funding and faster progress in the EU integration talks.
According to a poll released by ARD-Deutschlandtrend last week, 56 percent of Germans – up from 49 percent last month – described the deal as 'rather bad', compared to 39 percent rating it 'rather good'. The poll has also revealed a strong skepticism towards an idea of having closer ties with Turkey through offering it EU membership prospects.
Some 68 percent of German respondents said 'No' to Turkey's accession bid, with only 27 percent in favor of it. The poll was conducted between 4 and 5 April and involved over 1,000 respondents.
You can share this story on social media: