Canada in hot water over April approval of $11bn arms sale to Saudis despite int'l criticism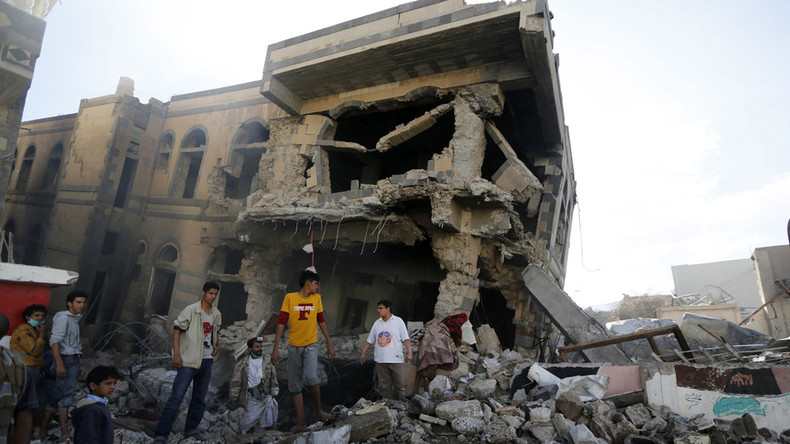 The Canadian government is under fire for secretly approving a deal, possibly the largest in the country's history, to sell arms to Saudi Arabia, turning a deaf ear to concerns about how the weapons will be used.
The newly-revealed documents from Global Affairs Canada, obtained by CBC News, confirm that none other than Foreign Affairs Minister Stéphane Dion has signed off on export permits to ship $11 billion worth of the $15-billion vehicle sale to Riyadh, which is accused of gross human rights violations.
Canada's Liberal government has refused to cancel the controversial sale since coming to power in November, claiming that it was a "done deal" (arranged by a previous Conservative administration of Stephen Harper) which could not be abolished without triggering severe penalties and job losses.
The Globe and Mail reported that Dion issued export permits for the bulk of the arms shipments as recently as last Friday. According to the newspaper, the department of Global Affairs Canada document (stamped 'secret' and obtained by a law university professor challenging the Saudi deal in court) shows Dion's signature beside the words 'I concur' below the memo.
The permits reportedly cover light armored vehicles, spare parts and "associated weapon systems," the memo signed by Dion says, adding that the fighting vehicles will be equipped with machine guns and anti-tank weapons.
The documents reportedly note how rare it is for a foreign affairs minister to personally sign off on export permits, with an exception made because the deal is so high profile and worth a fortune.
The documents also acknowledge concerns over Saudi Arabia's human rights record, reportedly mentioning "the reported high number of executions, suppression of political opposition, the application of corporal punishment, suppression of freedom of expression, arbitrary arrest, ill-treatment of detainees, limitations of freedom of religion, discrimination against women and the mistreatment of migrant workers."
Despite all this, Saudi Arabia appears to be Canada's "key military ally supporting international efforts to counter ISIS [Islamic State or IS] in Iraq and Syria as well as countering instability in Yemen," CBC has cited the document as saying.
"The acquisition of state-of-the-art armored vehicles will assist Saudi Arabia in these goals, which are consistent with Canada's defense interests in the Middle East."
The documents reportedly go on to say that Canada has "sold thousands of LAVs [light armored vehicles] to Saudi Arabia since the 1990s, and, to the best of the department's knowledge, there have been no incidents where they have been used in the perpetration of human rights violations."
The New Democratic Party (NDP) has accused the Liberals of deceiving Canadians.
NDP leader Thomas Mulcair said "the government lied to Canadians about who signed what when in the Saudi arms deal, and that is a very serious matter."
READ MORE: Cameron brags of 'brilliant' UK arms trade as EU embargoes Saudi
Fighting in Yemen has killed nearly 6,400 people - most of them civilians - and seen over 30,000 injured since Saudi Arabia launched its intervention against Iranian-backed Houthi rebels in March 2015, the UN's Office for the Coordination of Humanitarian Affairs said.
"If the preponderance of the evidence is that it could be used against civilian populations... then the deal has to be off," Conservative MP Tony Clement said, adding that Canada's export controls do not require firm evidence of breaches, only an assessment of a risk of abuse, AFP reported.
You can share this story on social media: