Cameron brags of 'brilliant' UK arms trade as EU embargoes Saudi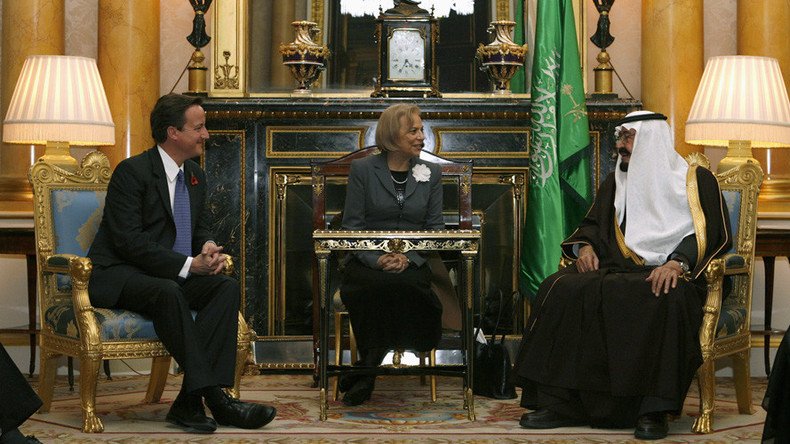 European ministers have embarrassed David Cameron by voting to impose an arms embargo on Saudi Arabia on the same day the British prime minister praised the UK for selling "brilliant" arms to the country.
Speaking at a BAE Systems factory in Preston, the prime minister said the UK had pushed the sale of Eurofighter Typhoons to countries in the Middle East, including Oman and Saudi Arabia.
His comments come as a report by Amnesty International reveals that EU and US arms trading provided Saudi Arabia with arms worth billions of dollars in 2015. The Saudis are engaged in a military offensive against Houthi rebels in Yemen. The latest figures from Action on Armed Violence (AOAV) suggest some 6,400 civilians have been killed or injured in the conflict.
Cameron's speech in Preston came at the same time the European Parliament voted to impose an EU-wide ban on arms exports to Saudi Arabia, citing criticism from the UN of its bombing in Yemen.
Asked at the talks how he was helping to export the planes, Cameron said: "With the Typhoon there is an alliance of countries: the Italians, Germans and ourselves. We spend a lot of time trying to work out who is best placed to win these export orders. We've got hopefully good news coming from Kuwait. The Italians have been doing a lot of work there. The British have been working very hard in Oman."
The vote will not force EU members to comply with the ban, but will force the government to examine its relationship with Saudi Arabia.
In the last year the British government has sold £3 billion (US$4.18 billion) worth of arms and military kit to the Gulf state, as well as providing training to Saudi forces.
A report released by Amnesty International on Friday called the ongoing trade with Saudi Arabia "truly sickening," and urged governments to attend meetings in Geneva on Monday to discuss the implementation of the Arms Trade Treaty (ATT).
The report names the UK, France, Germany, Italy, Montenegro, the Netherlands, Spain, Sweden, Switzerland, Turkey and the US as having issued licenses for arms to Saudi Arabia worth more than £18 billion in 2015.
The arms sold include drones, bombs, torpedoes, rockets and missiles, which have been used by Saudi Arabia and its allies for gross violations of human rights and possible war crimes during aerial and ground attacks in Yemen, the campaign group said.
Control Arms Director Anna Macdonald said: "Governments such as the UK and France were leaders in seeking to secure an ATT – and now they are undermining the commitments they made to reduce human suffering by supplying Saudi Arabia with some of the deadliest weapons in the world. It's truly sickening."
You can share this story on social media: