'Unlawful civilian deaths in Yemen': HRW urges US, UK, France to suspend arms sales to Saudi Arabia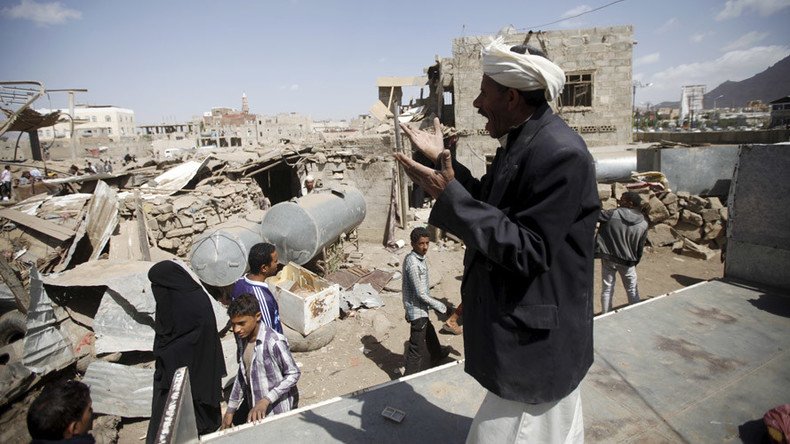 The US, France, and the UK risk complicity in unlawful civilian deaths in Yemen, according to HRW. The organization called on the countries to suspend all weapons sales to Saudi Arabia until it curtails its airstrikes and investigates alleged violations.
"For the past year, governments that arm Saudi Arabia have rejected or downplayed compelling evidence that the coalition's airstrikes have killed hundreds of civilians in Yemen," Philippe Bolopion, the deputy global advocacy director for Human Rights Watch (HRW), said in a public release.
"By continuing to sell weapons to a known violator that has done little to curtail its abuses, the US, UK, and France risk being complicit in unlawful civilian deaths," he continued.
'Unlawful airstrikes'
HRW says it has documented 36 unlawful airstrikes by the Saudi-led coalition in Yemen, some of which may amount to war crimes. The strikes include attacks on schools, hospitals, and homes, with "no evidence they were being used for military purposes." According to the organization, those strikes have led to the deaths of at least 550 civilians.
The organization also cited a UN Panel of Experts on Yemen from January, in which the panel had "documented 119 coalition sorties relating to violations" of the laws of war, and noted that Amnesty International has documented 26 strikes that were apparently unlawful.
The release comes just days after UN inspectors found no evidence that a strike on a market in northwest Yemen had any sort of military goal. More than 100 people were killed in the attack.
In October, the coalition came under fire for hitting a Doctors Without Borders hospital in Sadaa.
HRW stressed that the Saudi-led coalition has an obligation to investigate the allegations of war crimes, but noted that it has seen no indication that it has conducted any "meaningful investigations" into alleged laws-of-war violations.
"Saudi Arabia has not responded to Human Rights Watch letters detailing apparent violations by the coalition and seeking clarification on the intended target of attack," the organization wrote in the release.
Foreign weapons sales
Speaking specifically of the US, the organization noted that Washington's "participation in specific military operations, such as providing advice on targeting decisions and aerial refueling during bombing raids, may make US forces jointly responsible for laws-of-war violations by coalition forces."
It went on to note that the US Defense Department approved a number of weapons sales to Saudi Arabia in July 2015, including a US$5.4 billion deal for 600 Patriot Missiles and a $500 million deal for more than a million rounds of ammunition, hand grenades, and other items, for the Saudi army. Between May and September of the same year, the US sold $7.8 billion worth of weapons to the Saudis, according to the Congressional Research Service.
In October, the US signed a $1.29 billion arms deal with Riyadh for more than 10,000 advanced air-to-surface munitions including laser-guided bombs, "bunker buster" bombs, and MK84 general purpose bombs. The Saudis have used all three types of bomb in Yemen, according to HRW.
Citing the London-based Campaign Against Arms Trade, the organization also noted that the UK approved $3.9 billion in military sales to Saudi Arabia between January and September 2015. Those weapons included 500-pound Paveway IV bombs. The UK is also negotiating a $1.4 billion weapons deal with the United Arab Emirates, part of the Saudi-led coalition.
However, the UK has said that although it has personnel in Saudi Arabia, the country is not involved in carrying out airstrikes, conducting or directing operations, or selecting targets. Prime Minister David Cameron said in January that British personnel are deployed to "provide advice, help, and training" to the Saudi military.
As for France's role, HRW noted that Saudi Arabia reportedly signed agreements worth $12 billion with France in July 2015. Those deals included $500 million for 23 Airbus H145 helicopters. Riyadh is also expected to order 30 military patrol boats by 2016 under the agreements. Meanwhile, Reuters reported in October that Saudi Arabia had entered into negotiations with the French company Thales Group to buy spy satellite and communications equipment worth "billions of euros."
The Saudi-led coalition – supported by the US, UK, and France, among others – has been bombing Houthi rebels since March 2015. The coalition sides with the exiled President Hadi, while the Houthis are aligned with former President Ali Abdullah Saleh, who resigned in 2012 following a popular uprising against his rule.
You can share this story on social media: