RT 360 video of 1,000 swimwear-clad Sochi skiers (VIDEO)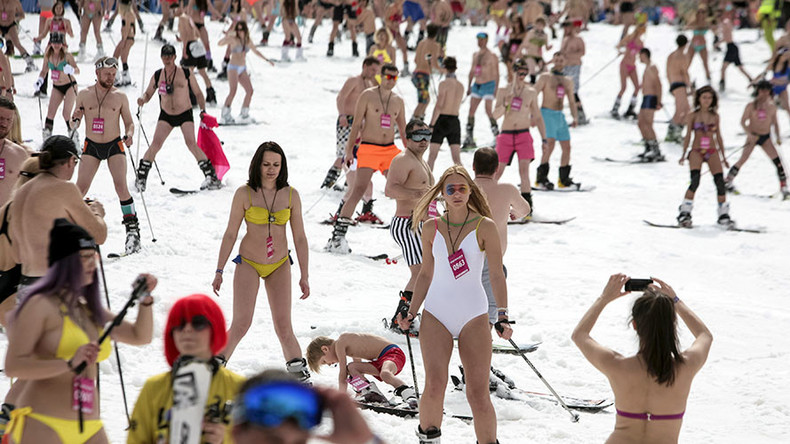 For those who failed to make it to Sochi last weekend to take part in the swimwear ski record attempt, no need to worry - RT managed to capture the whole thing in immersive 360-degree video.
One thousand participants clad only in bikinis and swim shorts took to the slopes to say farewell to the ski season and welcome summer. RT's 360 video of the event means all you need to do is put on your swimwear, sit back on the couch and watch.
The organizers of the event are planning to send an application to the Guinness Book of Records to get the event entered as a record.
RT is now producing 360 footage that allows the viewer to immerse themselves in the video and view every angle of an event. RT's Facebook page dedicated to 360 video, RT360, was one of the world's first Facebook pages dedicated to immersive videos launched by a media organization.
READ MORE: RT goes for VR: 360-degree videos to immerse you in the news
Several cameras are used in 360 video. They shoot in all directions to achieve a complete panoramic video of the action when they are joined together at the processing stage. The viewer can then seamlessly move around the video and watch whichever angle they choose in real time.
The videos can be viewed in VR, including the RT360 VR app available on Google Play and from the AppStore featuring RT's first immersive mini-documentary, titled Donbass 360: The Ravaged Heart of Europe.
READ MORE: Heart of the action: RT360 panoramic video mobile app launched
Still not sure what 360 is? Take a look below and find yourself at the heart of the action. Remember to keep an eye on the RT360 Facebook page as we continue to bring you more news and events with this exciting video technology.
You can share this story on social media: