Al-Qaeda gaining power & money from Saudi-led intervention in Yemen – report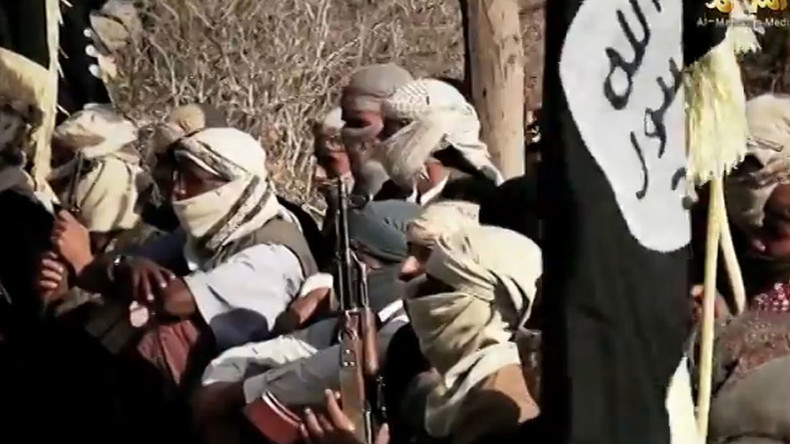 Al-Qaeda has made major financial gains as a result of the war in Yemen, running its own mini-state and pocketing $100 million in looted bank deposits and revenue from running the country's largest port, a Reuters investigation has revealed.
The group's deep pockets and increased power are down to the Saudi-led intervention in Yemen, which has reportedly helped it become stronger than at any time since its emergence almost 20 years ago.
Al-Qaeda in the Arabian Peninsula (AQAP) has a major presence in Mukalla, a city of 500,000 people, where it runs the third largest port in Yemen. As part of its port "management," the group operates speedboats manned by armed fighters who impose fees on ship traffic.
Yemeni government officials and local traders estimate that the group earns up to US$2 million every day in taxes on goods and fuel coming into the port. In addition, it is believed the group has managed to extort $1.4 million from the national oil company.
The group also looted Mukalla's central bank branch, gaining an estimated $100 million, according to two senior Yemeni security officials.
The economic empire of Mukalla was described to Reuters in detail by more than a dozen diplomats, Yemeni security officials, tribal leaders, and residents.
AQAP has abolished taxes for local residents in Mukalla, and group members have integrated themselves with southern Yemenis who have felt marginalized by their northern counterparts for years. The group has also made propaganda videos in which they have boasted about paving local roads and stocking hospitals.
In doing so, the group has managed to win over many locals.
"I prefer that Al-Qaeda stay here, not for Al Mukalla to be liberated," said one 47-year-old resident. "The situation is stable, more than any 'free' part of Yemen. The alternative to Al-Qaeda is much worse."
AQAP has managed to expand its territory by using many of the tactics used by Islamic State (IS, formerly ISIS/ISIL). It boasts 1,000 fighters in Mukalla alone, and controls 600km (373 miles) of coastline. The group also claimed responsibility for the 2015 Charlie Hebdo attack, which left 12 people dead at the satirical magazine's Paris office.
'Easier to expand'
According to a senior Yemeni government official, AQAP's expansion is due to the Saudi-led coalition in Yemen, which is supported by the US.
The coalition, which has been bombing Houthi rebels since March 2015, sides with the exiled President Abd Rabbuh Mansur Hadi, while the Houthis are aligned with former President Ali Abdullah Saleh, who resigned in 2012 following a popular uprising against his rule.
The official told Reuters that the war has "provided a suitable environment for the...expansion of Al-Qaeda."
He said the withdrawal of government army units from their bases in the south allowed AQAP to acquire "very large quantities of sophisticated and advanced weapons, including shoulder-fired missiles and armed vehicles."
In addition, the coalition's pre-occupation with fighting the Houthis "made it easier for Al-Qaeda elements to expand in more than one area," the official said. "And this is why Al-Qaeda has today become stronger and more dangerous."
But despite claims that the intervention has made it easier for AQAP to expand, a recent statement from the Saudi embassy in Washington stated that the campaign had "denied terrorists a safe haven in Yemen."
Still, AQAP continues to grow and prosper amid a civil war which has so far led to the deaths of 6,000 people. Among the death toll are 3,218 civilians, according to the UN Human Rights Office. An additional 5,778 civilians have been injured in the violence.
You can share this story on social media: