'Dozens' killed in US airstrike on Yemen al-Qaeda camp – Pentagon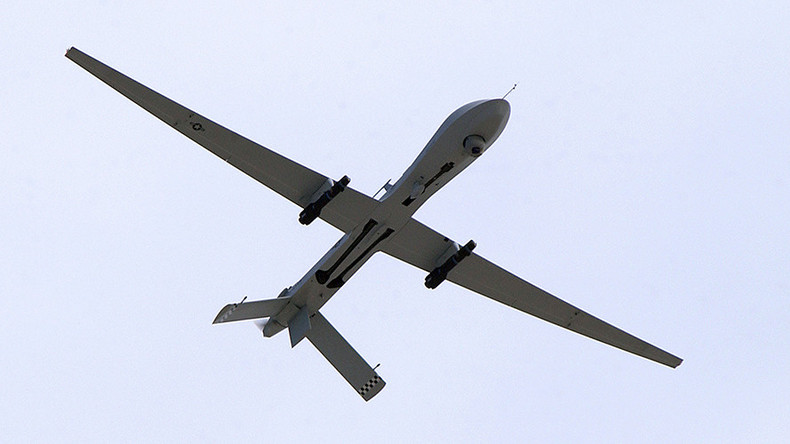 The Pentagon says an American airstrike has killed "dozens of fighters" at what it described an al-Qaeda training camp in a mountainous area of Yemen. The strike follows a recent Saudi bombing on a Yemeni market that resulted in over 100 civilian casualties.
Pentagon announced late Tuesday that the US military had bombed a training camp of al-Qaeda's local affiliate, al-Qaeda in the Arab Peninsula (AQAP), used by "more than 70 terrorists."
"Early this morning the US military conducted an airstrike against an al-Qaeda in the Arabian Peninsula training camp in Yemen. The camp was located in the mountains, and was being used by more than 70 AQAP terrorists," the statement said.
The location of the alleged training camp was not disclosed, nor did Pentagon share any other details about the strike. It is still unknown if there were any civilians affected by the airstrike.
It claimed that "dozens of AQAP fighters have been removed from the battlefield." The airstrike, therefore, would deprive al-Qaeda of its capability "to use Yemen as a base for attacks that threaten US persons, and it demonstrates our commitment to defeating al-Qa'ida and denying it safe haven."
Yemen security officials and a witness on the site told AP that the airstrike hit a former military base that had been taken over by al-Qaeda militants about 75 kilometers west of the terror group's stronghold city of Mukalla.
The American airstrike came amid the Saudi-led military operation in Yemen, which aims at pushing back Houthi insurgents and forces loyal to former President Ali Abdullah Saleh and bring back exiled ex-President Abd Rabbuh Mansur Hadi. The US military does assist the Saudi campaign by providing intelligence, mid-air refueling and logistical support.
Earlier in March, Saudi air forces hit a market in Yemen's Hajja governorate, killing 106 civilians, including 24 children. UN High Commissioner for Human Rights Zeid Ra'ad Al Hussein said later that the target had no military significance as the nearest Houthi checkpoint was located 250 meters away from the market.
Resurgent AQAP militants were seen taking advantage from the military campaign against the Houthis, their Shia foes, and had seized significant parts of southern Yemen.
At least 6,000 people have been killed in Yemen fighting since March 2015, many of them civilians. In January, a UN panel assigned to investigate the bombings in Yemen reported to the Security Council that it had revealed "widespread and systematic attacks on civilian targets by Saudi Arabia."
You can share this story on social media: