In a nutshell: NATO chief vows to make US allies ramp up defense bills citing 'Russian aggression'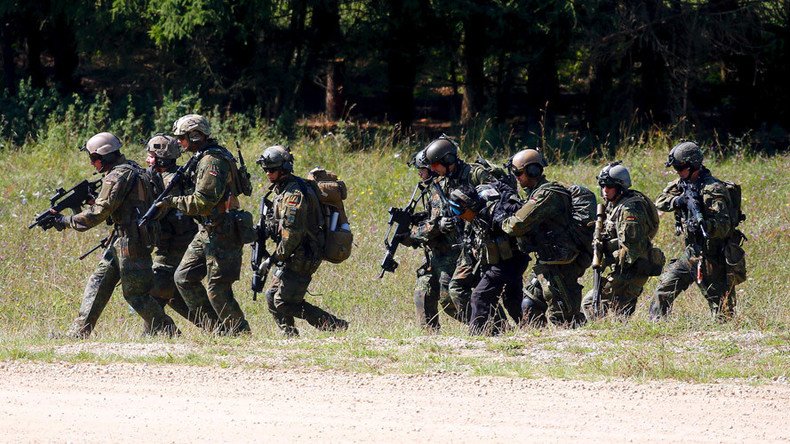 Following a meeting with US President Obama, NATO Secretary-General Jens Stoltenberg lauded the block's "biggest reinforcement since Cold War," promising European members will step up defense spending, while listing an "assertive Russia" among the alliance's chief threats.
While never mentioning the maker of the latest "obsolete NATO" remarks by name, on Monday both Barack Obama and Stoltenberg did their utmost to dismiss Donald Trump's recent statements and defend the Cold War-era block's supposedly crucial role in assuring the allies' security.
Obama described NATO as "a linchpin, a cornerstone of US security policy," while Stoltenberg said it was "important as ever," while ramming home the story that NATO "has been able to adapt" to a "more dangerous world." The comments were made after a bilateral meeting in Washington, DC scheduled to mark the 67th anniversary of NATO – the first such high-level talks since the Paris and Brussels attacks.
"Together, we are now implementing the biggest reinforcement through our collective defense since the end of the Cold War," Stoltenberg said.
The challenges discussed at the meeting ranged from countering Islamic State (IS, formerly ISIS/ISIL) terrorism in Libya, Syria, and at home, and training security forces in Afghanistan for "pushing back against the Taliban," to dealing with the European migrant crisis and helping resolve the conflict in eastern Ukrainian. However, the reinforcements in question boiled down to one perceived threat: containing "a more assertive Russia, responsible for aggressive actions in Ukraine."
Indeed, Obama has backed quadrupling the budget of the so-called European Reassurance Initiative, as the Pentagon has announced a plan to deploy additional US Army troops and equipment in Eastern Europe in 2017, meaning that US military presence in Europe could soon amount to three fully operational army brigades.
"This is really a strong example of the Transatlantic bond, how the United States is important for the security of Europe," claimed Stoltenberg.
The "reassurance" would come at a price, however, with US taxpayers potentially on the hook for the $3.4 billion requested by Obama from Congress, and the alliance's chief now pushing European NATO member states to step up their commitment by coughing additional funding up for the block from their coffers.
"I will work together with all the NATO allies to make sure that they make good on the pledge they made together to increase defense spending. And this is about that we have to invest more in our security when tensions increases, and therefore we have to make sure that we do what we promised, and that is to invest more in defense in the following years."
The US and NATO have been increasingly active in pushing for a stronger military presence in Europe, particularly in regions close to Russia's border. They argue that this deployment is necessary to deter Moscow from making aggressive military moves.
Commenting on the latest developments to Izvestia daily, Russia's permanent representative to NATO, Aleksandr Grushko, noted on Thursday that alliance's new advances contradict the spirit of the international treaties on mutual relations and military activity, which state that the Western military bloc is not to permanently station additional forces near Russian borders. He added that the plan to deploy new armored units in Eastern Europe would lead to "a significant deterioration of the situation in the military sphere," vowing a "totally asymmetrical" response from Russia.
"We are not passive observers, we consistently take all the military measures we consider necessary in order to counterbalance this reinforced presence that is not justified by anything," Grushko said on Wednesday.

Meanwhile, US President Barack Obama told reporters on Monday that NATO is currently in contact with Russia with regard to resolving the crisis in Eastern Ukraine, but only in the form of consultations.
"NATO is consulting with Russia to reduce tensions and potential escalation," the White House announced in a pool report.
Obama then noted that both the US and NATO plan to further train and support the Ukrainian military in order to enhance its defense capabilities. "[US and NATO will] continue to be united in Ukraine in the wake of Russian incursions in the Ukrainian territory, [working in] a 'train and assist' fashion to help Ukraine develop its military capabilities defensively."
"That does not mean we are not continuing to work with Russia to try and find a resolution to the problems in Ukraine. We think it's important to maintain a dialogue with Russia and in a very transparent fashion indicate the firmness of our resolve to protect our values and our allies," the pool report quoted Obama as saying.
The US has accused Moscow of military engagement in Ukraine, while Russia has repeatedly denied these claims. Kiev launched a military operation against militias in eastern Ukraine in April 2014 after they refused to recognize the new coup-installed government in Kiev. The confrontation has claimed over 9000 lives to date, according to UN estimates. Despite the second Minsk agreement of February 2015, which was aimed at suspending hostilities in the region and facilitating a political solution to the conflict, both sides occasionally breach the agreed upon ceasefire.
You can share this story on social media: