Weapons control regime in Europe is dead, says Russia's envoy to NATO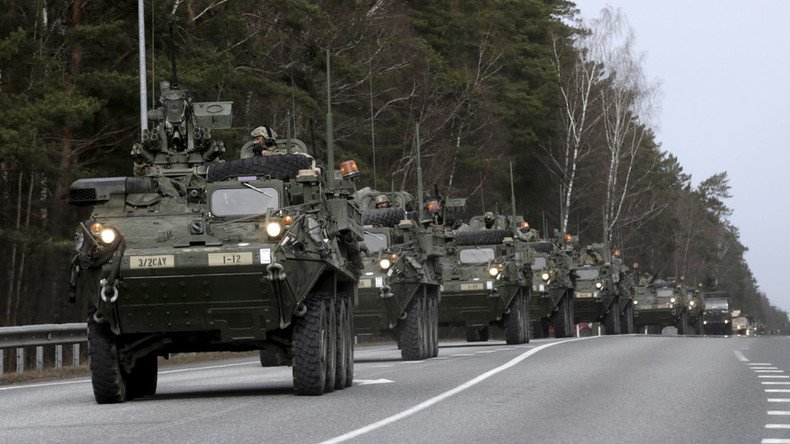 The deployment of a US tank brigade to Europe is yet more proof that international treaties on troop movements are not working, and that weapons control on the continent is dead, Russia's permanent representative to NATO has said.
In comments to Izvestia daily, Aleksandr Grushko said that US plans to send another 4,200-strong unit to Europe should be seen as part of a larger plan to boost the US military presence there, and added that it would lead to "a significant deterioration of the situation in the military sphere."
READ MORE: Pentagon mulls more permanent troops in Europe - report
He explained that regular rotation of US forces already takes place in six European countries, and that US troops participate in constant military exercises together with forces from European countries. In addition, NATO is developing infrastructure sites allowing for rapid deployment of military reinforcements to Europe and is stepping up its air force activity near Russian borders, as well as the intensity of reconnaissance flights.
"All this is proof that the earlier announced 'containment policy' is being overgrown with concrete decisions in military planning. This is creating a long-term negative tendency not just for the security of certain regions, but for the security of Europe as a whole," Grushko said.
He added that the US was sending another tank brigade to Europe without anything critical happening East of the bloc's territory, and that this was further evidence of the completely artificial character of these preparations.
"There is no direct threat to Poland or the Baltic nations, but the information campaign keeps going. They keep multiplying the scare stories, alleging that Russia would attack the Baltic countries if NATO had not taken measures and stationed troops in this region. We have every reason to say that the situation is developing for the worse."
The official noted that NATO's actions contradict the spirit of the 1997 Founding Act on Mutual Relations, Cooperation and Security – as the Western military bloc agreed not to permanently station additional forces near Russian borders, and for Russia's defenses there is practically no difference between constant rotation and the permanent deployment of troops.
Grushko added that global anti-missile defense installations that will be soon operate in Poland and Romania definitely contradict the treaty as they are both permanent and substantial.
However, the envoy said that the recent developments would not affect Russia-NATO cooperation because this was already at a "non-existent" level.
"In April 2014, NATO countries decided to cease any cooperation with Russia and stopped all projects. As of today, we don't have any positive agenda relating NATO," Grushko told Izvestia.
The comments came a week after Deputy Defense Minister Anatoly Antonov told Deutsche Welle that Russia had no intention of sending troops to European countries, and urged mass media to stop spreading scare stories about the Russian military 'threat.'
READ MORE: Stop scaring Baltics with Russian tanks, deputy defense minister tells journalists

"We should stop the spreading of these scary tales alleging that Russia intends to send tanks to the Baltic countries, to Sofia or Budapest. No one has any intention to do this. There are no such plans. Russia wants no war. Any statements that say that Russia intends to launch a war are simply ridiculous," the official said.
You can share this story on social media: