Pentagon mulls more permanent troops in Europe - report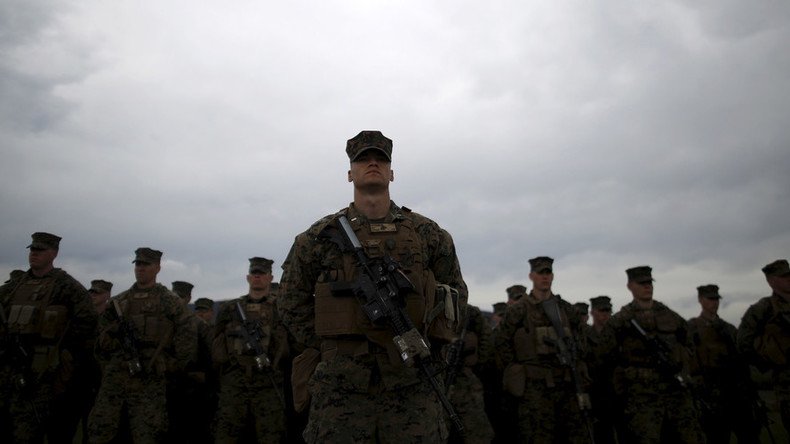 The US military is reportedly considering plans for permanent deployment of "one or more" US Army brigade combat teams (BCT) to Europe, as the West continues to ramp up rhetoric over alleged Russian aggression.
The head of the US military's European Command (EUCOM) and NATO's supreme commander, Air Force General Philip Breedlove, was said to have discussed his proposals with senior Pentagon officials in Washington last week, according to a defense official familiar with the plans, the Military Times reported on Sunday.
"They are looking at ways to increase the permanent Army forces in Europe… They're trying to figure out 'how much do we need, and where would it come from?'"
If approved, the new deployment could involve thousands of US troops. An average American BCT is composed of between 3,000 and 5,000 personnel. The US Army had four brigades in Europe until 2012, when it decided to deactivate two of them. Recently, the Army has returned more than 200 vehicles, but those are prepositioned in warehouse and not attached to permanent combat units.
"We do not have, in my opinion, enough US forces permanently stationed forward … so I believe that the permanent forces forward need to be reviewed," General Breedlove told reporters last Tuesday.
In February, Breedlove also told the US House Armed Services Committee that American troops were ready to defeat Russia in a European war. "To counter Russia, EUCOM, working with allies and partners, is deterring Russia now and preparing to fight and win if necessary," Breedlove said.
The decision to add more troops to the ongoing massive build-up in Eastern Europe was backed up by the outcomes of a February report by the RAND Corporation, according to the Military Times. The analysis said that in a NATO-Russian armed conflict the Russian military would outperform the bloc and "reach the outskirts of Tallinn and Riga in 60 hours."
Such a "rapid defeat," the RAND's paper urged, would "leave NATO with a limited number of options, all bad: a bloody counteroffensive, fraught with escalatory risk, to liberate the Baltics; to escalate itself …or to concede at least temporary defeat, with uncertain but predictably disastrous consequences for the alliance."
There are approximately 67,000 US troops in Europe, while around 57,000 personnel are assigned to EUCOM. The United States has also pledged several thousand service members to the NRF, including a brigade combat team from the Texas-based 1st Cavalry Division, a hospital ship, air-to-air refueling tankers, and escort ships.
Under the so-called European Reassurance Initiative launched during an armed conflict in Ukraine, Washington drastically increased exercises and "rotational presence" across Eastern Europe, including "more persistent deployments" of the US Navy to the Black and Baltic seas.
Russia's Defense Ministry has repeatedly denounced the statements by citing the connection between the "Russian threat" and discussions on the US military budget. "It is not a thing to be impressed by," MoD spokesman Major General Igor Konashenkov told journalists in February.
"The reason is simple – the discussion of the military budget in Congress for the next year."
He pointed out that the idea of a so-called Russian threat is not new. "One needs to remember that the 'Russian threat' has been the best-selling threat delivered by the Pentagon not only to Congress, but also to NATO partners since the middle of the previous century," he said. "What would they do without us?"
You can share this story on social media: