Russia vows 'totally asymmetrical' response to major US troop build-up in Europe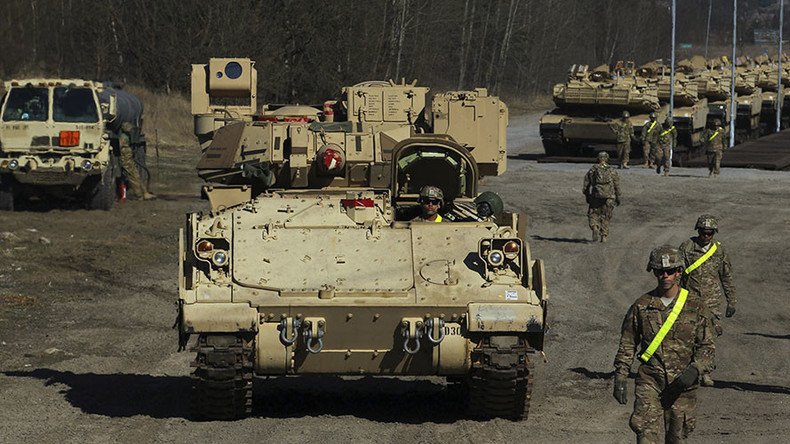 Russia's envoy to NATO has vowed a "totally asymmetrical" response if the alliance stands by a plan to deploy new armored units to Eastern Europe. Citing Russian "aggression" as a pretext, the US has announced "continuous troop rotations" starting 2017.
"We are not passive observers, we consistently take all the military measures we consider necessary in order to counterbalance this reinforced presence that is not justified by anything," Moscow's permanent representative at the alliance, Aleksandr Grushko, said in an interview with TV channel Russia-24 on Wednesday. "Certainly, we'll respond totally asymmetrically."
Grushko did not elaborate on his statement, but said Russia's actions would correspond to its "understanding of the extent of the military threat, would not be extremely expensive, but also highly effective."
"As of today, assessing as a whole what that the US and NATO are doing, the point at issue is a substantial change for the worse in the security situation," he said.
The comments from Russia's NATO envoy came shortly after the Pentagon announced a plan to increase its troop presence in "the European theater" of up to three fully-manned Army brigades by the end of 2017, one armored, one airborne and one Stryker brigade.
"This Army implementation plan continues to demonstrate our strong and balanced approach to reassuring our NATO allies and partners in the wake of an aggressive Russia in Eastern Europe and elsewhere," Air Force Gen. Philip M. Breedlove of the US European Command said. "This means our allies and partners will see more capability – they will see a more frequent presence of an armored brigade with more modernized equipment in their countries."
The first such rotational armored brigade combat team would arrive in Europe in February next year. Each of the brigades will be on nine-month rotations and bring their own equipment to use for exercises across Europe. NATO also wants to enhance Europe's current equipment and replace it with "the most modern the Army has to offer." At the same time, the older gear would become the core of the previously unveiled "Army pre-positioned stocks," which NATO would keep in Belgium, the Netherlands and Germany.
"We see that the plan to increase readiness approved at the NATO summit in Wales is being consistently implemented, new and new measures aimed at 'calming down' US allies in Eastern Europe are announced," Grushko said as he responded to the news from the Pentagon.
The Russian envoy also addressed reports of Breedlove's suggestion to resume surveillance flights of U-2 jets over Europe, presumably on the borders of the Baltic states.
Speaking of "the strategic threat presented by Putin's Russia," Breedlove reportedly said that "EUCOM needs additional intelligence collection platforms, such as the U-2 or the RC-135, to assist the increased collection requirements in the theatre."
While Grushko has not ruled out such jets being used over regions bordering Russia, he sees undertones of propaganda in the reports rather than a real threat.
"It seems to me that these [reports on potential resumption of flights by US reconnaissance planes] are nothing more than another propaganda volley, but made with an intent," Grushko said. "Reconnaissance aircraft will not fly over Russia."
In this regard, he cited another example of the West's purposeful anti-Russia rhetoric which has spread throughout the media.
"Reading these materials makes your hair stand on end, because of how some experts discuss with aplomb that if NATO had not taken measures, our [Russia's] tanks would already be in Tallinn and Riga," Grushko said.
At the same time, he said that bridges have not been burned between Russia and NATO, leaving the door open for restored cooperation - although he stressed that the alliance should end its policy of confrontation.
"Cooperation will be possible only when NATO countries start realizing that the policy of confrontation contradicts their own national interests," Grushko said. "There are no technological barriers to this cooperation. We hope that sooner or later all the ties which we used to have, and which used to be effective, will be re-established and our cooperation will continue."
You can share this story on social media: