Russia's A5V heavy-lift rocket to be 'ready for lunar missions by 2025' – Roscosmos chief to RT
Published time: 2 Apr, 2016 03:18
Edited time: 2 Apr, 2016 05:42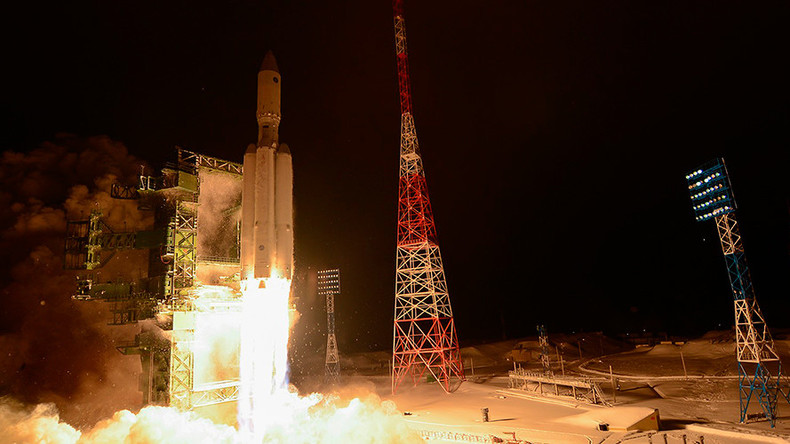 Russian engineers have presented a prototype of Russia's most powerful "Angara A5V" heavy-lift rocket that may perform its first manned flight to the Moon by 2030. As RT has learned from the Roscosmos chief the project is proceeding according to schedule.
"At the end of February we drew up a preliminary design of a heavy-lift rocket Angara A5V. It is now being reviewed by all relevant research institutes," the head of Roscosmos Igor Komarov told RT.
The A5V spacecraft would add to Russia's brand-new Angara rocket family which is based on unified Universal Rocket Modules (URM). Angara has been in development since 1994 and became the first spacecraft family produced entirely after the Soviet era.
Unlike its "siblings" – Angara A5 rockets – Angara A5V is slated to be more efficient and capable of transporting a payload of up 38 tons. While looking quite similar, both featuring one core and four booster URMs as the first stage, due to some upgrades A5V can lift over 10 tons more than Angara A5.
The main difference between Angara A5V and Angara A5 is an oxygen-hydrogen booster, which will replace oxygen-kerosene propelled upper stages, and the upgraded engine thrust of the first stage boosters.
Roscosmos, however, is still looking at years of tough work and development to make its plans a reality.
"We have to complete preparations for lunar missions and for A5V by 2025," Komarov said.
READ MORE: Russia test launches first newly designed 'Angara' space rocket

If in the future tests are successful, the Angara A5V may perform the first manned flight to the Moon sometime in 2030. The next stage would be manned lunar landing missions, which could come to fruition by 2035. One such mission would most likely require from four to six launches of the Angara-A5V spacecraft.
In between now and then, there is also the heavy lift Angara A5, which is scheduled to deliver first useful load to orbit next year – and perform the first take-off from a specially designed launch pad at Russia's brand new Vostochny Cosmodrome by the end of 2021.
In December 2014, Russia's space agency already successfully test-launched Angara A5, which delivered a dummy payload right into geostationary orbit.
Soon there might be manned missions: The Roscosmos chief's goal is to have Angara A5 carrying humans from Vostochnyi to the orbit by the end of 2023.
Watch a full interview with the head of Roscosmos Igor Komarov April 12 on RT.