Lovesick at Larnaca: Was EgyptAir hijacking driven by broken heart?
Published time: 29 Mar, 2016 09:24
Edited time: 29 Mar, 2016 15:37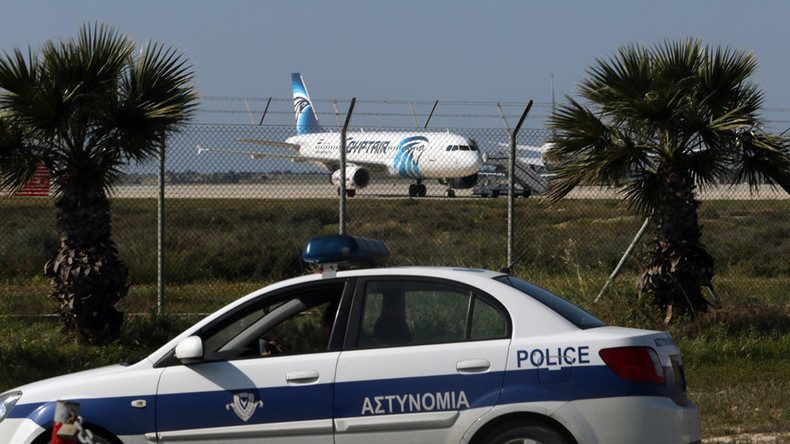 Social media users were captivated by reports that the dramatic mid-air hijacking of an EgyptAir flight on Tuesday morning was guided by a lovelorn Egyptian man desperate to see his ex-wife.
The hijacker, identified by the Cypriot Foreign Ministry as Seif Eldin Mustafa, ordered the pilot to deviate from the original flight plan of Alexandria to Cairo.
The Egyptian Civil Aviation Ministry initially said one of the pilots of the EgyptAir plane told the authorities he was threatened by a passenger with a suicide belt, but the information regarding explosives was later found to be false.
The Egyptian government has also apologized to Ibrahim Samaha for earlier mistakenly identifying the veterinary medicine professor as the EgyptAir plane hijacker.
READ MORE: EgyptAir flight MS181 hijacked, diverted to Cyprus
After an emergency call to air traffic control, the flight landed at Cyprus' Larnaca Airport around 8:50 a.m. local time. Shortly afterwards, the hijacker allowed most of those on board to disembark but four passengers and the flight crew were kept on the plane.
Although the hijacker's motives remain unclear, reports emerged early in the ordeal that the man sought to either speak to his ex-wife, who now lives in Cyprus, or to send her a love letter.
This impression was compounded by official responses to the incident. Speaking to reporters about the situation at Larnaca Airport, Cypriot President Nikos Anastasiades ruled out terrorism and instead said the incident was driven by a man seeking to reunite with his ex-wife.
Police reportedly escorted the man's ex-wife to the airport as part of their efforts to negotiate the safe release of the remaining passengers and crew on board the EgyptAir jet.
The hijacker later allowed the remaining passengers to leave the plane, and Cypriot authorities arrested him after he surrendered from the plane. The whole incident played out over six hours.
Local reports on the incident also suggested that the man had sought the release of Egyptian prisoners, and that the letter he apparently wanted to deliver to his wife was actually a list of prisoners.
Although the investigation into the incident continues, the internet reaction has focused keenly on the possible 'romance' of the situation.
Social media users were stunned by the extraordinary lengths the hijacker reportedly went to in order to see his ex-wife again.
Larnaca Airport was shut down indefinitely as authorities responded to the hostage crisis, and the hijacking has raised questions about the viability of restoring flights between Russia and Egypt.
Flights were suspended in the wake of the bombing of a Russian Metrojet flight over Sinai in November 2015, killing all 224 on board.
READ MORE: Reports Egypt detained 2 airport workers suspected of aiding bomb plant on Russian plane denied