EgyptAir flight MS181 hijacked, diverted to Cyprus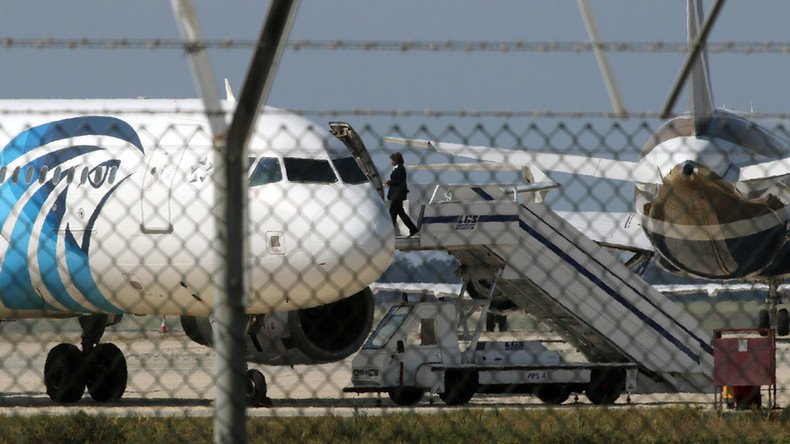 Egyptian airlines flight MS181, en route from Alexandria to Cairo, has been hijacked by a passenger, who said he had a suicide belt and forced the pilot to land in Larnaca Airport, Cyprus. There were reportedly 81 passengers and crew members on board the plane.
29 March 2016

20:24 GMT

The EgyptAir plane, which was previously hijacked and diverted to Cyprus, has reached its intended destination in Cairo.

12:38 GMT

The Egyptian Prime Minister Sherif Ismail says the hijacker's motives were not clear. At one point he asked to meet with European Union officials, while he also mentioned that he would like to fly to another airport.

Ismail claimed the man was an Egyptian national and that he would be questioned to try and understand why he decided to hijack the plane.

"At some moments he asked to meet with a representative of the European Union and at other points he asked to go to another airport but there was nothing specific," he said.

11:58 GMT

Official sources at EGYPTAIR declared the release of all the hostages and the arrest of the hijacker. #EgyptAir

— EGYPTAIR (@EGYPTAIR) March 29, 2016

11:46 GMT

The hijacker has emerged from the aircraft with his hands held up, Cyprus TV reports. According to the Foreign Ministry's Twitter account, the stand-off is over and the man has been arrested.

11:40 GMT

Cypriot TV has aired footage of eight people climbing out of the EgyptAir plane. Only the hijacker is now believed to be inside.

11:20 GMT

The hijacker of Egyptian Airlines flight MS181 has demanded the Airbus A320 be refueled and allowed to proceed to Turkey, reports Sky News Arabia, with reference to an unidentified source from EgyptAir.

11:17 GMT

A representative of the Cyprus Foreign Ministry says the hijacker's motives remain unclear. The hijacker is reported to be Egyptian. Negotiations are still under way.

"What we have clarified ... is that its not about terrorism. It appears to be a person who is unstable, in an unstable psychological state and the issue is being handled accordingly," foreign ministry official Alexandros Zenon told journalists in a briefing.

11:07 GMT

More unconfirmed photos of the suspected hijacker are circulating on the web.

11:06 GMT

The departure of a New York-bound EgyptAir flight has been delayed in Cairo over security fears following the incident with the company's hijacked aircraft currently remaining at the Larnaca Airport, Cyprus, security officials informed.