Reports Egypt detained 2 airport workers suspected of aiding bomb plant on Russian plane denied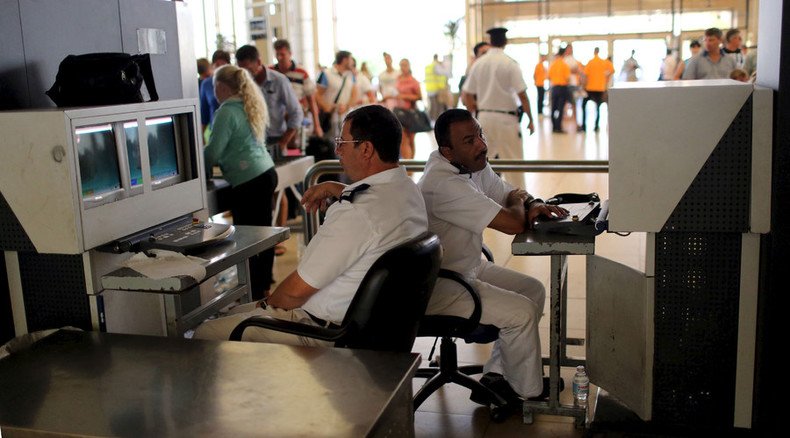 A report that Egypt is holding two employees of Sharm el-Sheikh Airport on suspicion of assisting those who planted the explosive device on the Russian jet that crashed in Sinai have been denied by Egyptian authorities and other airport officials.
"Seventeen people are being held, two of them are suspected of helping whoever planted the bomb on the plane at Sharm al-Sheikh Airport," one of the officials apparently told Reuters.
The reports, however, were promptly denied first by Egyptian authorities, and later by one of the airport employees, who spoke with RIA Novosti.
"I have been here [in the airport] during these days, so I can say that no one was detained. In the first days after the tragedy, many people were questioned, but no one was arrested," he said.
READ MORE: Russian plane crash in Sinai a terrorist attack - Russian Security Service
The information comes following the statement by Russian Federal Security Service saying the Sinai plane crash was a terrorist attack.
"We can say that that [Sinai plane crash] was a terror act," FSB director Aleksandr Bortnikov told Russian President Vladimir Putin. He added that experts analyzed passengers' belongings as well as the parts of the plane. "After the examination on all these objects, we have found traces of a foreign-made explosive substance."
"During the flight, a homemade device with the power of 1.5kg of TNT was detonated. As a result, the plane fell apart in the air, which can be explained by the huge scattering of the fuselage parts of the plane," he added.
Earlier in November an AP investigation found that Sharm el-Sheikh Airport had many gaps in security, such as lax searches at the entry gate and poor quality of scanning devices. Seven officials involved in security at Sharm el-Sheikh Airport, several of more than a decade's service, told the AP of the gaps, speaking on condition of anonymity.
READ MORE: 'Bogus bomb detectors' used in Sharm el-Sheikh hotels before Sinai plane crash
A 10-year-old CTX scanner had several breakdowns because operators didn't use it properly, an official at the airport said. "I have seen people unplug it to save power."
Other added that the machine wasn't working properly at all and only managed to scan a sample of the bags, not all of them.
"We only care about appearances," another official said. "Once they [higher-ups] hear something is coming, suddenly everything gets fixed. ... We wish we had visits every day."
One of the officials claimed that many police officers in the airport were taking brides.
"I can't tell you how many times I have caught a bag full of drugs or weapons that they have let through for €10 or whatever," he said.
The Metrojet (Kogalymavia) A321 plane crash took place over the Sinai Peninsula on October 31. All 224 people on board the plane were killed, making it the deadliest air accident in modern Russian aviation history.
About 10,000 Russian tourists are being transferred from Egypt every day according to estimates from Russia's Emergencies Ministry, RIA Novosti reported Monday. The flights between Russia and Egypt were stopped on November 6. At that time there were still about 80,000 Russians staying in Hurgada and Sharm el-Sheikh resorts.
You can share this story on social media: