Before our eyes: Syria's Battle for Palmyra in latest RT reports (VIDEOS)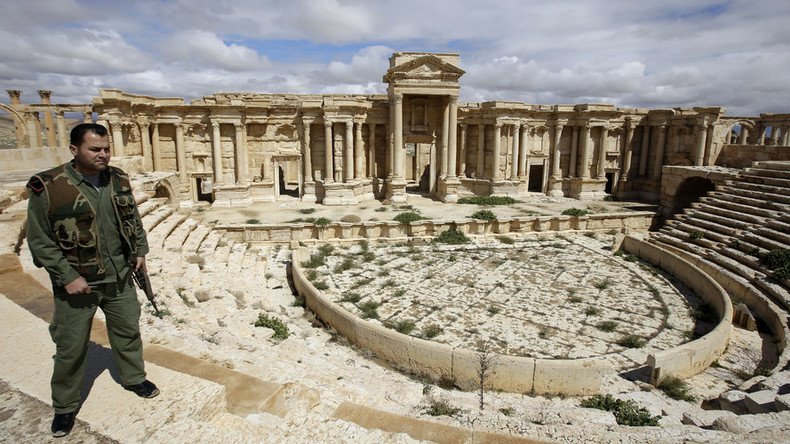 Syrian army is close to regaining full control of the ancient city of Palmyra. Check out some of RT's exclusive footage and battleground reports on how Islamic State (IS, previously ISIS/ISIL) militants are being pushed from the UNESCO heritage site.
Fierce fighting rages on
RT's agency Ruptly's latest video footage shows units of the Syrian Arab Army (SAA) battling IS militants in and around Palmyra on Friday. The historical ruins of Palmyra are clearly visible from the position of Syrian mortar crews.
READ MORE: Syrian Army retakes historic citadel from ISIS continuing advance on Palmyra - state media
In the latest update, Syria state TV said that troops have regained control of the Syriatel hill near Palmyra's castle and are a step closer to retaking the whole city, which has been under Islamic State control since last May.
Russia helping with air sorties
Russian warplanes offered crucial support to the Syrian forces on the ground this week by carrying out 41 sorties and destroying 146 terrorist targets from Tuesday to Thursday, Russia's Defense Ministry said.
READ MORE: Russian Air Force carried out 41 sorties to support Syrian army's Palmyra offensive

One of the stories that stood out was a report on Russian Special Operations Forces officer who called a strike onto himself when he was compromised and surrounded by IS militants near Palmyra. Thanks to the brave actions of this officer and others, Russian military planes have been able to pinpoint IS targets with precision – something absolutely crucial in the circumstances.
ISIS pillage of Palmyra
A Russian TV crew captured a striking footage of Palmyra revealing the damage endured under IS occupation. The iconic 2,000-year-old Arch of Triumph was blown up by the jihadists in October 2015.
READ MORE: Striking drone footage shows what remains of Palmyra after ISIS pillage
Good win or bad win? US undecided
The US government still seems on the fence on whether or not the ancient city should be liberated from the hands of Islamic State by Syrian President Bashar Assad's forces. Only when pressed by reporters did the State Department call IS "probably a greater evil" than President Assad.
READ MORE: US State Dept fails to say if ISIS must be pushed out of Palmyra or not
Bomb traps danger
The Syrian army is very close to retaking control of the whole city, but it fears that IS militants have hidden bombs at ancient sites. Before more information can be gathered, the troops will not know when to expect a full-scale offensive against IS.
IS has used this tactic in the past. Also, the extremist group has carried out brutal executions at historical parts of the city by binding individuals to ancient columns and blowing them up.
RT crews remain on battlefront
The RT crew was one of the few that filmed the fighting in Palmyra, offering an exclusive look into the progress of Syrian soldiers in pushing out Islamic State fighters.
READ MORE: RT EXCLUSIVE: ISIS position in Palmyra up-close, RT 1st intl TV crew to follow Syrian Army assault
The conditions they faced while on the ground were extremely dangerous. RT's Lizzie Phelan and her team risked their lives to report from a position with direct sight of Islamic State militants.
Just meters from where the crew was filming, a mortar landed next to their car. Shrapnel injured one of the Syrian Army soldiers.
You can share this story on social media: