ISIS terrorists blow up iconic 2,000yo Arch of Triumph in Palmyra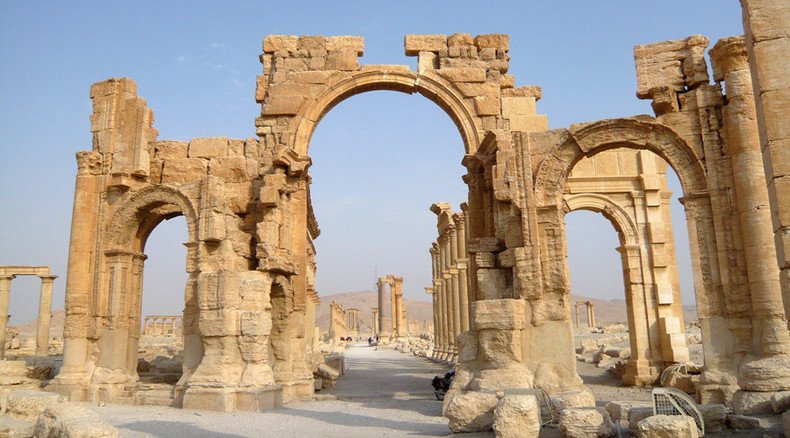 The iconic arch at the UNESCO heritage site in Syria's Palmyra has been blown up by ISIS jihadists engaged in a "cultural cleansing" of the Middle East. The latest grievous loss of an ancient artifact was confirmed to Reuters by Syria's antiquities chief.
READ MORE: ISIS trafficking of Syrian artifacts needs urgent countermeasures – UNESCO chief
Sources in Palmyra confirmed that the iconic Arch of Triumph, a centerpiece of the ancient ruins in the oasis city, had been blown up, Maamoun Abdulkarim told Reuters.
"It's as though there is a curse that has befallen this city and I expect only news that will shock us," said Abdulkarim. "If the city remains in their hands the city is doomed."
Last month jihadists obliterated several ancient funeral towers at the UNESCO-protected site, while back in August the terrorists blew up two temples – the Temple of Baal Shamin and the Temple of Bel.
After seizing the ancient city of Palmyra in May 2015, Islamic State (IS, formerly ISIS/ISIL) militants demolished several ancient temples and gravesites. The city's custodian, 82-year-old archaeologist Khaled al-Asaad, was tortured and beheaded by the group.
READ MORE: ISIS obliterates ancient tombs in Palmyra
Palmyra's blow-by-blow destruction "is an impudent crime against civilization because it was a symbol of cultural dialogue, a material proof of the ability of cultures to interact… This is what the extremists are seeking to destroy," said Irina Bokova, Director-General of UNESCO.
Islamic State militants are engaged in the "cultural cleansing" of the Middle East, Bokova told RT in an exclusive interview, adding that when one "persecutes people on the basis of their ethnicity or religion, destroys their monuments, their temples, deprives them of their intangible heritage, attacks their identities – they stop being humane."
LISTEN MORE:
You can share this story on social media: