ISIS partially destroys 2,000-yo Bel temple in Palmyra, Syria - monitor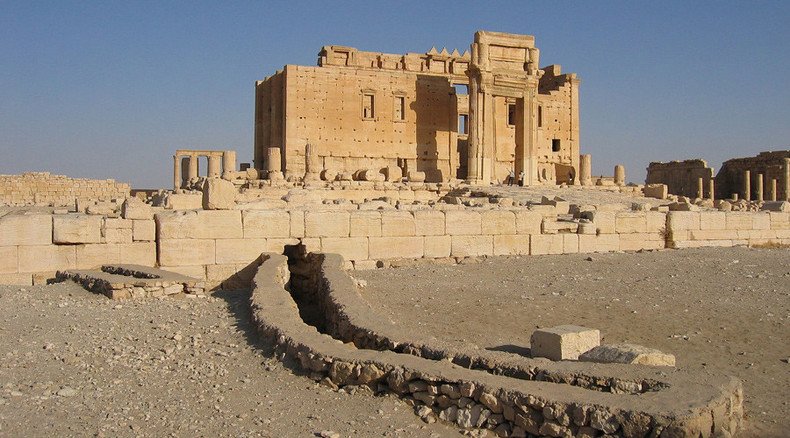 Islamic State partially destroyed a second ancient temple in Palmyra, just days after blowing up another historic site, a Syrian monitor says. The 2,000-year-old Bel temple, northeast of Damascus, is considered one of the world's greatest ancient relics.
The temple was constructed in honor of the Semitic god Bel, and was part of a series of three temples, with the others dedicated to the lunar god Algibol and the sun god Yarhibol. They were built in the year 32 AD and were at the center of Palmyra's religious life.
The extent of the initial damage to the Bel temple was unknown, according to the Syrian Observatory for Human Rights. But later word indicated that, despite Al Jazeera's reports that more than 30 tons of explosives were used for the job, the temple is still standing.
Bel's central shrine was regarded as well-preserved until the demolition started Sunday.
News of Bel's destruction comes less than a week after Islamic State (formerly ISIS/ISIL) released images purporting to show the destruction of Baal Shamin, a temple dedicated to worshiping the Phoenician god of storms and rainfall. Baal Shamin was known as the 'Pearl of the Desert,' located some 210km to the northeast of Damascus, where ISIS jihadists are currently clashing with another extremist group.
READ MORE: Harrowing images show ISIS 'demolishing' Syria's ancient Palmyra temple (PHOTOS)

Islamic State militants recently beheaded an 82-year-old antiquity scholar whose life's work was the study of the ancient city, which the terrorists seized in May and have been destroying brick by brick ever since. The elderly man's body was left to hang in public, Syria's antiquities chief reported.
UNESCO's attempts to brand ISIS as war criminals for destroying Palmyra aren't bearing fruit. The world heritage site, older than Islam itself, is no match for the terrorists' violent take on the faith, which they have been using to carve up Syria and Iraq, and now Libya.
READ MORE: Appalling ISIS video shows ancient Assyrian city of Nimrud being razed to ground
UNESCO chief Irina Bokova last Friday said the scale of ISIS's destruction wrought upon Syria and Iraq's ancient sites has not been witnessed since WWII.
In a bid to do something to preserve the image of the ancient relics, scientists will now use thousands of specially-modified 3D cameras to capture the Middle Eastern sites before they are relegated to historic memory. The Million Image Database Project, aimed at creating a full digital record of every artifact under threat, was announced earlier this summer by the Institute for Digital Archaeology.
You can share this story on social media: