Russian Air Force carried out 41 sorties to support Syrian army's Palmyra offensive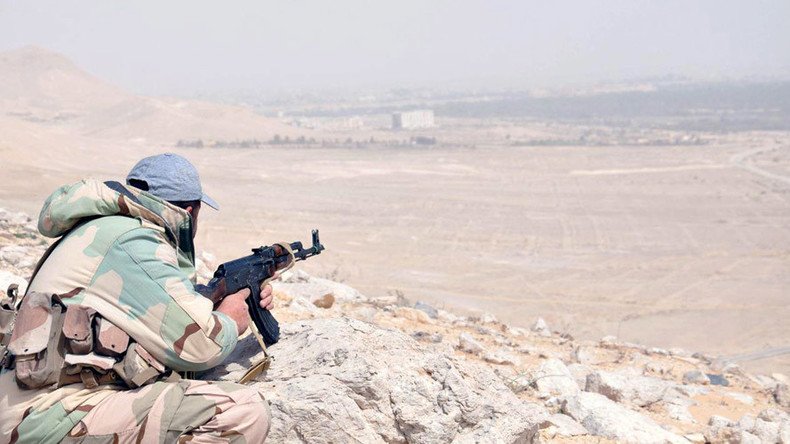 Russian warplanes carried out 41 sorties and destroyed 146 terrorist targets in the area of the historical Syrian city of Palmyra from Tuesday to Thursday, Russia's Defense Ministry has reported.
"From Tuesday to Thursday (March 22-24) the planes of the Russian Aerospace Forces carried out 41 sorties to support the advancing Syrian army and strike Islamic State (IS, Daesh, formerly ISIS/ISIL) militants in the area of Palmyra (Homs province)," Lieutenant General Sergey Kuralenko, head of the Russian ceasefire monitoring center, said on Friday.
"As a result of the actions of the Russian aviation, 146 terrorist facilities, including command centers, ammunition depots, artillery units, tanks and other vehicles, were destroyed," he added.
Kuralenko stressed that Russian aviation wasn't targeting opposition groups which have joined the Syrian truce, and that have informed Russian or US ceasefire centers of their decision.
The Syrian Air Force wasn't striking opposition targets as well, he added.
The Russian ceasefire center is monitoring the situation in Syria 24/7, he stressed, adding that "the truce in the country is generally respected."
During the week, the staff of the Russian ceasefire center were in talks with 11 opposition groups in Aleppo and Homs provinces on joining the truce.

"Over the past week, the Russian ceasefire center delivered more than 19 tons of humanitarian aid to towns and cities in Damascus, Hama and Homs Provinces, I want to emphasize that the humanitarian aid for the population of Hama province was delivered under fire from insurgents," Kuralenko said.
Earlier on Friday, there were reports that the Syrian Army had taken control of a medieval castle situated on the hill overlooking the city of Palmyra.
The 13th-century Fakhr-al-Din al-Maani Castle, or Palmyra Castle, a UNESCO World Heritage Site, was the last strategic height in the city held by Islamic State fighters.
On March 14, Russia announced that it was withdrawing the majority of its forces from Syria, as the five-month operation nears its goals.
However, Deputy Defense Minister Nikolay Pankov stressed that "
Palmyra is a UNESCO World Heritage Site, formerly known for housing some of the best-preserved monuments of antiquity anywhere in the world.
After capturing the historical landmark, the jihadists blew up the 2,000-year-old Temple of Bel, and the Arch of Triumph, and used the Roman-era amphitheater for filmed public executions.
You can share this story on social media: