'We will strike back': Anonymous-style video vows to take revenge on ISIS after Brussels attacks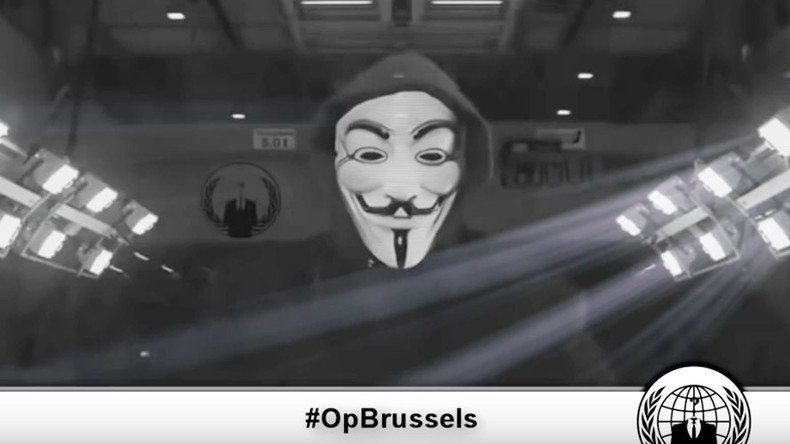 An Anonymous-style clip posted online has issued a new threat to Islamic State militants following deadly attacks in Brussels. The man, wearing a trademark Anonymous/Guy Fawkes mask, vowed to track the extremists down and "will not rest" as long as ISIS militants "continue their actions around the world."
The combat mission to fight extremists and recruitment networks from the internet was announced via a YouTube video. In the video, the man promised to launch a new operation dubbed #opbrussels and #opbelgium against the Islamic State.
"Most of you know that Belgium was hit by terrorists on 22nd of March, 2016. Our freedom is once again under attack, this can't continue," said the spokesman who was wearing the group's symbol – the iconic Guy Fawkes mask.
READ MORE: Brussels airport and Metro bombings aftermath LIVE UPDATES
The hacktivists vowed to "strike back against" Islamic state militants. They said they won't "rest as long as terrorists continue their actions around the world."
"We will keep hacking their websites, shutting down their Twitter accounts, and stealing their bitcoins. To the supporters of Daesh [IS, formerly ISIS/ISIL]: we will track you down, we will find you, we are everywhere and we are more than you can imagine. Be afraid."
On Tuesday, blasts rocked Brussels' Zaventem Airport and the city's Maalbeek Metro station, killing at least 32 people and injuring over 270. Islamic State claimed responsibility for the attack.
READ MORE: Anonymous claim Twitter is shutting down their accounts for harassing ISIS
The group said that when terrorists killed "innocent civilians in Belgium they hit everybody in Europe" and that's why the hacktivists have to "fight back." They added they invite all people to battle terrorism.
"But you don't have to hack them. If you stand up against discrimination in your country you harm them much more than by hacking their websites. The Islamic state can't recruit Muslims in Europe if they are accepted and included in the society."
Following November attacks in Paris that left over 130 people dead, the group declared total war on extremists.
In the recent video, they said since November attacks they "fought daily against terrorism" and "silenced thousands of Twitter accounts directly linked to ISIS."
"We severely punished Daesh on the darknet, hacked their electronic portfolio, and stole money from the terrorists. We have laid siege to your propaganda websites, tested them with our cyber-attacks."
READ MORE: 'Anonymous will hunt you down!' Hacktivists declare 'total war' on ISIS after Paris attacks
As part of the campaign against Islamic State militants, Anonymous disabled the social media accounts of IS supporters, leaked their information, and even replaced an IS-supporting website with a Viagra ad and a message to "calm down." The collective has also used images of goats and rubber ducks to taunt IS online.
In December the group kicked ISIS Trolling Day to mock the terrorist group with memes and cartoons. Hashtags #Daesh and #Daeshbags were used to ridicule the militants online, a name they hate so much that they have reportedly threatened to cut off the tongue of anyone who uses it.
You can share this story on social media: