'Anonymous will hunt you down!' Hacktivists declare 'total war' on ISIS after Paris attacks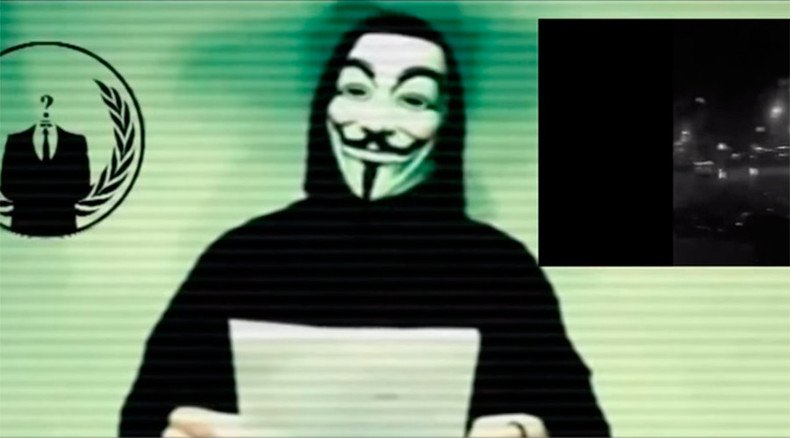 The hacktivist group Anonymous, engaged in electronic warfare against Islamic State, has declared 'total war' on the terror group following the deadly attacks in France, while pledging to hunt down every single supporter of the jihadist group online.
LIVE UPDATES: Investigation widens as world mourns with France
The combat mission to root out terrorism propaganda and recruitment networks from the internet was announced via a YouTube video, where a spokesman wearing the group's symbol – the iconic Guy Fawkes mask – promised to "launch the biggest operation ever" against Islamic State (IS, formerly ISIS/ISIL).
Pledging to use their skills to "unite humanity," the group warned terrorists to "expect massive cyber attacks."
"Anonymous from all over the world will hunt you down," the spokesman said. "You should know that we will find you and we will not let you go."
"War is declared. Get prepared," the group said in the video post. "The French people are stronger than you and will come out of this atrocity even stronger."
A loosely associated international network of hacktivists, known as the Anonymous group, have been defending French cyber-borders following the Charlie Hebdo massacre in January under the #OpISIS online campaign.
Throughout the year, the group has tracked, hacked, unmasked, and reported thousands of Twitter accounts that were run by or associated with IS members.
The hactivists' work this year resulted in the dismantling some 149 IS-linked websites, according to a recent report in Foreign Policy. Anonymous also flagged roughly 101,000 Twitter accounts and 5,900 propaganda videos.
Anonymous also announced this week that they were able to trace a pro-IS hacking group CyberCaliphate that uses at least at least 10 Twitter handles to a single IP address in Kuwait.
A hacker with Anonymous, speaking to Epoch Times revealed that IS accounts have a life span of about eight hours before Twitter suspends them. After 10 suspensions, the hacktivist claims, "they disappear for a few weeks, only to re-emerge," under a different name, yet with CyberCaliphate banner and with the same IP address.
While the CyberCaliphate collective claims to be behind a number of cyber attacks, the activist told the Epoch Times that pro-IS hackers fake most of their attacks.
You can share this story on social media: