ISIS planned Paris-like terror attack at Istanbul football match – report
Published time: 21 Mar, 2016 18:35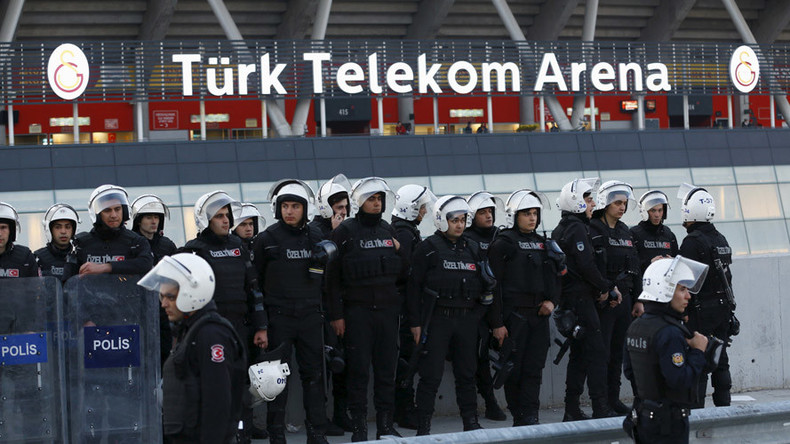 The postponement of a football match in Istanbul on Sunday was due to a suspected plot by the Islamic State terror group to attack the stadium, Turkish media report, citing "well-placed" intelligence sources.
The Galatasaray-Fenerbahçe derby was called off about two hours before kickoff on Sunday, with authorities citing an unspecified threat.
"This evening's match between Galatasaray and Fenerbahce, scheduled to be played in Istanbul, has been postponed to a later date in accordance with decisions of the Governor's office," the Turkish Football Federation wrote on its website on Sunday.
The Istanbul governor's office said that the decision had been made following "the request and the agreement" of the two rivals.
Meanwhile, Turkey's Hurriyet newspaper cited "well-placed" intelligence sources who claimed that Islamic State (IS, formerly ISIS/ISIL) had planned an assault on the stadium that would have been similar to the Paris attacks that killed 130 people in November 2015.
The sources said that IS militants planned to first carry out a suicide bomb attack in the crowd as fans were leaving the stadium, and then randomly open fire on the spectators.
The decision to postpone the game was made after officials from the Interior Ministry, the General Directorate of Security, and the Istanbul Directorate of Security assessed their options, according to the sources cited by Hurriyet,
Fans were originally told that the game would be played without spectators, prompting protests, but authorities later decided to postpone the game entirely.
Due to security concerns based on information provided by the TFF, İstanbul council and police force, tonight's match has been postponed.

— Galatasaray EN (@Galatasaray) March 20, 2016
The newspaper went on to report that IS' initial target had been the Nowruz celebrations in Istanbul, but that its focus was later redirected to the derby game after Nowruz events were canceled due to security concerns.
Nowruz, which marks the beginning of spring in many Middle Eastern and Central Asian cultures, is traditionally celebrated on March 21, particularly among Kurds.
The planned attack on the Galatasaray-Fenerbahçe match is believed to have been organized by IS leader Yunus Durmaz, known as Ebu Ali, who was behind an October 2015 attack in Ankara that claimed 103 lives.
The game was scheduled to take place just one day after an IS-linked suicide bomb attack took place on Istanbul's central İstiklal Avenue that killed four people and injured dozens of others.
The match's replacement date will be "shared with the public in the coming days," the Turkish Football Federation said.