From Arab Spring to 2016 truce: RT's timeline of 5-year Syrian war
For five years the Syrian conflict has affected people across the Middle East and beyond, claiming thousands of lives. From 2011 unrest in Daraa to Russia's anti-ISIS airstrikes and the 2016 truce, RT takes a look at critical events in the war's timeline.
March 2011: First anti-government protests
The conflict in Syria, which will enter its sixth year in March, started as opposition protests fueled by Arab Spring uprisings that in 2011 toppled governments across the Middle East and North Africa.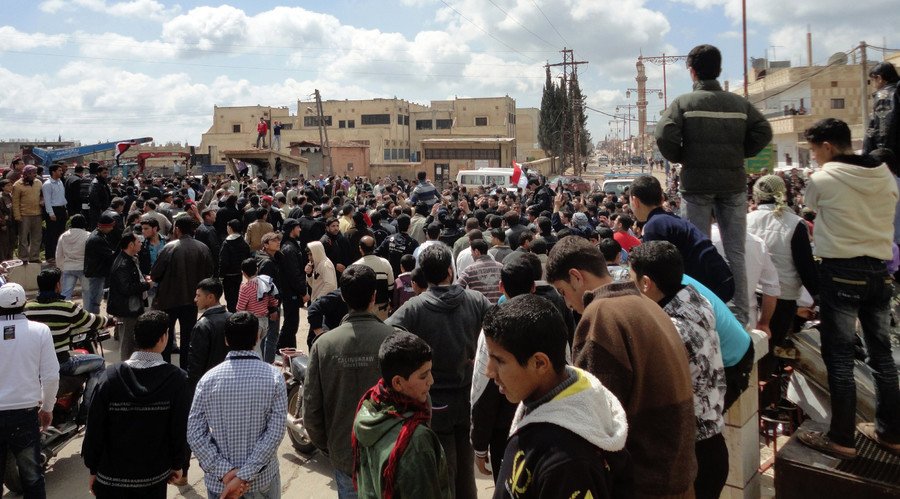 The spark that lit the flame began in the southern city of Daraa. It starts with a protest against the arrest and alleged beating of 15 schoolboys for painting anti-government graffiti on the walls of a school.
After nearly two weeks of bloody protests, President Assad accepts his government's resignation in a move to tackle the unrest­­, which sweepingly spread to other cities, including Baniyas, Homs and the suburbs of the capital, Damascus.
As part of wide-ranging reforms, Assad promises to lift the state of emergency that had been in place for almost 50 years and release hundreds of political prisoners. Yet, his efforts fail to stop the unrest – demonstrations continue to gain momentum.
April 2011: Unrest escalates
Activists across Syria gear up for what they call the 'Great Friday' protest, hoping that it will become the largest anti-government rally. April 22 becomes the deadliest unrest to date, with 75 people killed in clashes with security forces.
May 2011: Violence between government forces and opposition unfolds
The Syrian Army starts deploying heavy armor into major cities to tackle the nationwide uprising.
Both the EU and the US impose sanctions on Assad and his inner circle for the first time in an attempt to stop the bloody confrontation between the government and the opposition.
August 2011-December 2012: Opposition tries to de-legitimize Assad
Despite widespread condemnation, from the Arab League to the UN, the Syrian president says he will not step down. He reiterates that changes will be made to the constitution to appease the demonstrators.
"Their words are meaningless. They speak this way of a president who was elected by the Syrian people and not appointed by the West – the president is not a minion of the United States," Assad said. "We have chosen political means of solving our problems within the first days since the onset of those events."
Assad stated that national elections would take place in December.
On August 24, the Syrian National Council (SNC), a coalition of groups in and outside the country opposed to Assad, was formed in Istanbul.
November 2012: The National Coalition for Syrian Revolutionary and Opposition Forces is formed in Qatar. It incorporated the SNC, formed in August 2011.
Also this month, Assad sits down exclusively with RT, saying he will not leave Syria:
"We are the last stronghold of secularism and stability in the region and coexistence, let's say, it will have a domino effect that will affect the world from the Atlantic to the Pacific and you know the implication on the rest of the world," Assad said.
"I am not a puppet. I was not made by the West to go to the West or to any other country," he said.
"I am Syrian, I was made in Syria, I have to live in Syria and die in Syria," he added.
December 2012: US, Britain, France, Turkey and the Gulf States formally recognize the opposition National Coalition as the "legitimate representative" of the Syrian people.
October 2011-February 2012: Russia and China come to help at UN
The UN Security Council (UNSC) fails to pass a resolution condemning Assad's government with Russia and China vetoing the draft. Moscow says that the resolution was based on a philosophy of confrontation, and contained "an ultimatum of sanctions." Echoing Russia's position, China says it believes sanctions won't "help the situation in Syria, but rather complicate the situation."
February 2012: Russia, along with China, vetoes a UN Security Council resolution aimed at Syria for the second time because it did not include sanctions on anti-Assad opposition groupings. Moscow also states that the resolution does not reflect the situation in Syria.
November 2011-January 2012: Arab neighbors demand Assad must go
The Syrian government agrees to the terms of an Arab League peace plan, but fails to fully abide by it. The Arab League (LAN) decides to suspend Syria from the organization, accusing Damascus of violent suppression of opposition protests. The decision is slammed by Assad's supporters, who go on the rampage, attacking various diplomatic missions, which prompts a number of embassies to recall their diplomats.
January 2012: The Arab League calls for Assad to resign and decides to withdraw its observers, citing increasing violence; a move Syria says is an attempt to influence the UNSC.
March 2012: Kofi Annan's peace plan unveiled
The UN Security Council ratifies non-binding peace plan drafted by Kofi Annan, the UN-Arab League Joint Special Envoy for Syrian crisis and former UN secretary-general. China and Russia agree to support the plan after the draft has been modified.
Syria accepts Annan's six-point plan, which demands a ceasefire, the immediate withdrawal of tanks and artillery from residential areas and access for humanitarian aid, but does not stipulate any timeframe within which Assad must comply.
April 2012: Syrian government troops begin to withdraw from some cities and return to their bases as part of Annan's plan.
May-August 2012: Annan's peace plan fails
At least 116 people, mostly women and children, are killed on May 25 in the village of Houla in Homs province, becoming one of the worst massacres during the conflict. While survivors of the Houla massacre blame pro-government gunmen, the Syrian government said it matches the pattern of "terrorist gangs."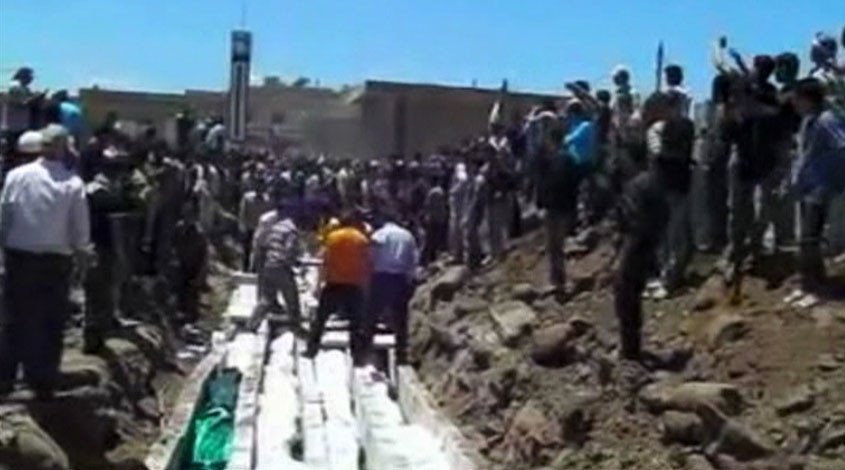 Days after the attack, France, UK, Germany, Italy, Spain, Canada and Australia expel senior Syrian diplomats.
June 2012: A representative of the Free Syrian Army, Major Sami al-Kurdi, says the opposition has no intention of committing to the UN-brokered ceasefire. Instead, the rebels want the UN-led observer mission to be transformed into "a peace enforcing mission," with a no-fly zone and a buffer zone being implemented with a mind to toppling the current government, demands which the UN chief rejects.
After coming to realize that the ceasefire hasn't worked out, nine nations sit down in Geneva for talks aimed at finding a way to end the bloodshed in Syria.
Britain, France and China, in addition to the United States, Russia and Arab League leaders, call for a transitional government to be set up.
August 2012: Former Algerian Foreign Secretary Lakhdar Brahimi replaces Kofi Annan as the United Nations-Arab League envoy to Syria, a UN spokesman confirms.
Spring 2013: First cases of chemical weapons use
Chemical weapons, widely considered a cruel and indiscriminate means of war, have been used in Syrian war, according to the UN.
The first widely-known chemical attack occurs in Khan al-Assal near Aleppo on March 19, 2013, resulting in dozens of fatalities including government soldiers and civilians. The Syrian government invites Russian experts to investigate the attack. According to a Russian assessment submitted to the UN, sarin nerve gas was used in the chemical attack, and the rebels were responsible for making the sarin and launching the attack.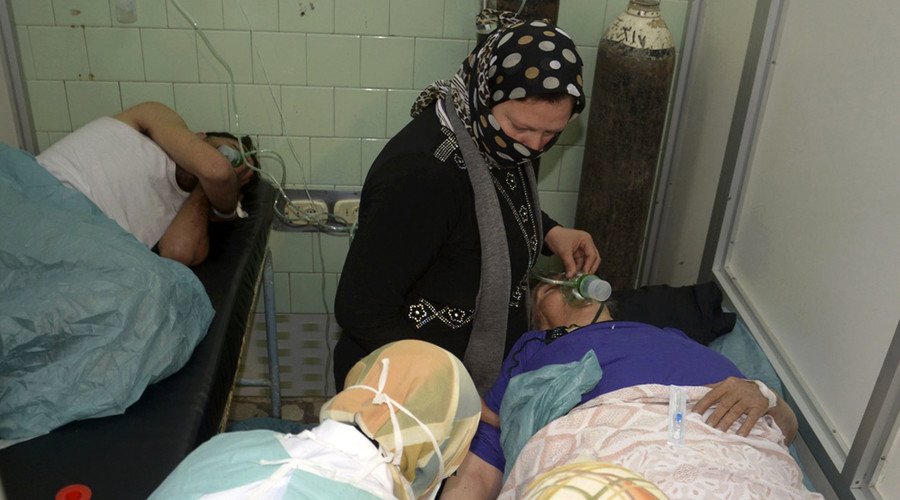 The second fatal attack occurs in Ghouta in the suburbs of Damascus in August 2013, claiming hundreds of civilian lives. The US promptly blames the Assad government for the attack, saying the Syrian military did it to push back rebels from several areas.
Moscow dismisses the allegations as baseless, stressing that the Syrian government had no motive to use chemical weapons, since the government already maintained a military advantage over the rebel fighters.
In mid-September 2013, the UN investigation team reports that it confirmed the use of sarin nerve gas in the Ghouta attack, saying it "collected clear and convincing evidence that surface-to-surface rockets containing the nerve agent sarin were used."
August 2012-September 2013: West threatens military intervention after chemical weapons 'used' by Syrian government
US President Obama warns that the use of chemical weapons would tilt the US towards intervention, with France also threatening retaliation. Russia says it has guarantees from Damascus that it would not use or move the chemical weapons arsenal.
Damascus vows not to use its chemical arsenal against its own people, but leaves the door open in the event of a foreign invasion.
December 2012: US Secretary of Defense Leon Panetta signs an order to deploy two Patriot air-defense missile batteries to Turkey. The missiles are expected to bolster Turkish defenses against Syria.
June 2013: A United States defense official says on condition of anonymity that the Pentagon will keep a fleet of F-16 fighter planes and its Patriot anti-missile system in Jordan past the expiration of the 12-day Eager Lion exercise, presently underway.
July 2013: President Barack Obama considers using military force in Syria, and the Pentagon prepares various scenarios for possible United States intervention.
September 2013: After the UN said it has "clear and convincing" evidence that sarin gas was used in an incident that occurred on August 21 on the outskirts of Damascus, Washington resumes its threat of a military invasion of Syria.
Reiterating his August 2012 vow to attack in case of chemical weapons use, Obama asserts right to strike Syria without congressional approval "as a commander in chief." However, he said that Capitol Hill support would strengthen the response to the alleged chemical attack.
The nuclear-powered aircraft carrier USS Nimitz, along with four destroyers and a cruiser, are ordered to move west in the Arabian Sea toward the Red Sea, so they can help support a US strike on Syria if requested, a US official tells Reuters.
September 2013-June 2014: Moscow-proposed chemical weapons talks to prevent Syrian intervention
Russia urges Syria to put its chemical weapons under international control for subsequent destruction to avert a possible military strike.
The Syrian government agrees to Russia's proposal to hand its chemical arsenal over to international control in a bid to avert a possible strike by the US-led coalition.
Syria says it will sign the Chemical Weapons Convention, following Russia's proposal that it hand over its chemical weapons to international supervisors. Damascus pledges to open its storage sites and provide full disclosure of its stocks immediately.
The US-Russian deal on dismantling Syria's chemical weapons saved the region from a full-scale war, a minister in President Assad's government says. Meanwhile, rebel forces call for a no-fly ban to be imposed on Syria's Air Force.
October 2013: Inspectors begin work to destroy Syria's chemical weapons arsenal, which was said to include about 1,000 tons of toxic agents. The team has a tight deadline of nine months.
June 2014: The last of Syria's declared chemical weapons have been handed over. "All declared chemical weapons have left Syria," OPCW Director General Ahmet Üzümcü told reporters at a press conference.
December 2013: US and UK suspend non-lethal supplies to rebels
The US and the UK suspend supplies of non-lethal military aid to rebels in northern Syria, voicing concerns that it could end up in the hands of terrorists after Islamist fighters seize Western-backed rebel weapons warehouses at Bab al-Hawa, in the northwestern province of Idlib.
January-February 2014: Geneva peace talks begin
The first round of the US-Russia-brokered Geneva talks begin in the Swiss resort city of Montreux, but from the start bear little fruit.
The National Coalition for Syrian Revolutionary and Opposition Forces, the main Western-backed political opposition group, agrees to take part in talks with Assad's government for the first time since the conflict began in March 2011, leading to hopes that a peace solution can be found. However, after 10 days of the summit no progress is reached.
In the meantime, the first batch of Syrian chemical weapons materials leaves the country on a Danish ship.
March 2014: Persecution of Christians
The Syrian Army tries to retake the Christian majority town of Kessab, reportedly seized by Al-Qaeda-linked forces. The attack forces hundreds of ethnic Armenians to flee and causes an international outcry, with Armenia blaming Turkey for supporting extremists.
Russia urges the UN Security Council to discuss the situation.
Summer 2014: ISIS gains ground in Iraq and Syria
Initially, Islamic State (IS, formerly ISIS/ISIL) began emerging as Al-Qaeda's ally, but the latter group disavows any relations with IS in February 2014, after an eight-month power struggle. Several months later, in June 2014, IS proclaims itself a 'world caliphate', and its leader, Abu Bakr al-Baghdadi is named its 'caliph'. The terror group's name was changed to 'Islamic State'.
IS gains ground in Iraq and Syria after crushing Baghdad's plans to retake Tikrit in summer 2014. Hundreds of troops are captured and 270 people murdered in a Syrian gas field following the jihadists' biggest attack yet.
August 2014: Syrian government forces carry out airstrikes against IS, however the rebels call for US strikes, as in neighboring Iraq, saying the Assad government is not fighting IS hard enough.
September 2014: US-led coalition flies first sorties over Syria
President Barack Obama on Wednesday outlines a plan to authorize broader US military involvement for hunting down IS fighters in Iraq, Syria and "wherever they exist."
In a public address to the American people, Obama announces the US will "conduct a systematic campaign of airstrikes against these terrorists."
The US Central Intelligence Agency believes IS "can muster between 20,000 and 31,500 fighters" throughout both Iraq and Syria, CNN reports.
February 2015: Europeans joining IS and 'jihadist brides' become a phenomenon
Three missing British schoolgirls are believed to have flown to Turkey with the intention of crossing the border into IS-controlled territory to become jihadist brides.
The girls, all pupils at Bethnal Green Academy, are reported to have flown from Gatwick to Istanbul on Tuesday during their half-term break.
Three Brooklyn men accused of planning to join IS in Syria are arrested by authorities in the United States. Had they failed to join the extremist group, the men allegedly planned to return to the US and wage attacks there.
April 2015: Some 22,000 foreign fighters from around 100 countries have gone to Syria and Iraq to join various radical groups, experts tell UN Security Council. The area has turned into a global training ground for extremists.
Syria and Iraq are world's biggest hotbeds for extremists linked with various offshoots of Al-Qaeda, IS and similar groups, a report seen by Reuters claims.
Between 5,000 and 6,000 Europeans have traveled to Syria to join the Islamic State, the EU Commissioner for Justice says, stressing that 1,450 of them are French citizens.
June 2015: Russian teenager Varvara Karaulova is brought to Moscow from Turkey, where she was caught allegedly en route to Syria to join IS.
August 2015: European refugee influx unfolds
Europe's refugee crisis has been dubbed the worst since WWII, with a record number of 107,500 asylum seekers crossing EU borders in July. Tens of thousands of people are fleeing war and poverty in the Middle East and North Africa to start a new life in Europe.
Later, by the end of 2015, it became known that Germany alone has taken over 1.1 million refugees, most of them Syrians, with many more to come. The refugee crisis rocks Europe and triggers the rise of far-right parties exploiting fears over governments' migration policies.
September 2015: Russia launches anti-ISIS op in Syria
The Russian military launches airstrikes against IS militant targets in Syria. The move is approved after a request from President Bashar Assad to President Vladimir Putin, who has also expressed concern about the number of Russian extremists in Syria.
November 2015: 'Turkish backstabbing'
A Russian Su-24 fighter was shot down in Syrian airspace by Turkey, the Russian Defense Ministry says, adding the plane hadn't violated Turkish airspace and was flying at an altitude of 6,000 meters.
Turkey 'backstabbed' Russia by downing the plane and acted as accomplices of the terrorists, Putin said.
December 2015: Russia unveils intelligence on Turkish-ISIS links
Russia has received additional intelligence confirming that oil from deposits controlled by Islamic State is moved through Turkey on an industrial scale, says Putin. Turkish President Tayyip Recep Erdogan says he will resign if this is confirmed.
February 2016: New hopes for peace in Syria after US-Russia deal
The US-Russia-brokered truce deal on "cessation of hostilities" in Syria comes into effect at midnight Damascus time. The ceasefire does not apply to engagements with IS, Al-Nusra Front or "other terrorist organizations" designated by the UN.
The United Nations Security Council unanimously adopts a resolution urging all parties involved in the Syrian civil war to adhere to the terms of the deal.
Russian Foreign Minister Sergey Lavrov and US Secretary of State John Kerry stress the need for cooperation in order to end hostilities in Syria. Meanwhile, the UN moves Syrian peace talks to March 9 to allow the ceasefire to take hold.
March 2016: Russia partially withdraws troops from Syria
Acknowledging that five months of military campaigns have mostly succeeded in their primary objective of eliminating the immediate wider threat from IS, Putin orders the partial withdrawal of Russian armed forces from Syria.
Russian military planes, which were involved in a five-month campaign in Syria, depart the Khmeimim Airbase in Latakia province.
You can share this story on social media: