Defiant Assad unveils Syria's future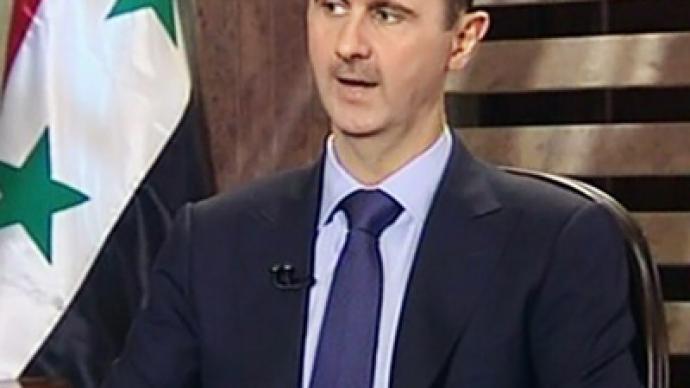 In an interview with a state TV, the Syrian president Bashar Assad said he had no intention of stepping down. However, he did concede that changes would be made to the constitution to curtail the Ba'ath party's supremacy.
Assad believes that calls from Western capitals aimed at convincing him to step down are not worthy of attention and that he is committed to settling problems by political means, the SANA agency reports."Their words are meaningless. They speak this way of a president who was elected by the Syrian people and not appointed by the West – the president is not a minion of the United States," SANA quoted him as saying."We have chosen political means of solving our problems within the first days since the onset of those events," Assad added.According to the president, municipal elections will be held in December. He also did not rule out the possibility of changes to the country's constitution, including its Article 8, which guarantees the leadership of the ruling Ba'ath party.It is Assad's first appearance on the television in two months. On Thursday, the United States, the UK, Germany and France called on Assad to agree to opposition demands and step down. American President Barack Obama announced that all Syrian assets in the US are to be frozen and banned the import of Syrian oil. The US Secretary of State Hillary Clinton earlier called upon the international community to increase economic pressure on the Assad regime and refrain from buying Syrian oil and gas.Anti-government protests have been continuing throughout Syria since March 2011. The actions taken by the Assad regime in order to suppress them have been largely criticized as extremely brutal, with human rights groups estimating the number of dead at more than 2,000.
You can share this story on social media: