Kosovo govt to buy body scanner to stop MPs smuggling tear gas into parliament
Published time: 11 Mar, 2016 15:47
Edited time: 11 Mar, 2016 18:28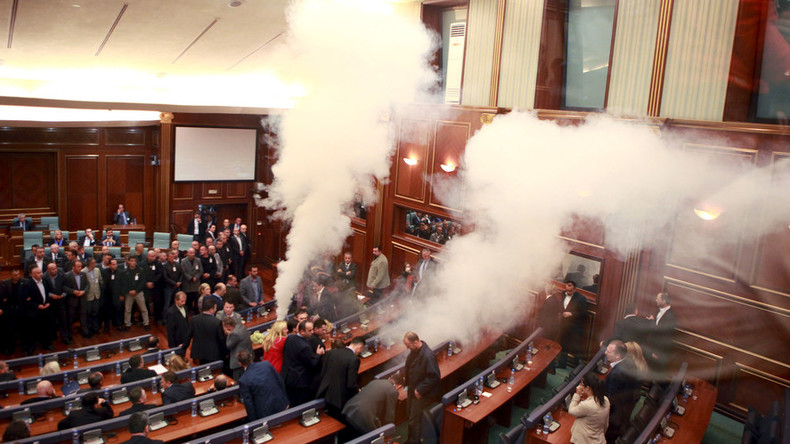 Kosovo's government is purchasing a body scanner to tackle an unusual issue it has encountered during every parliament session for the past six months – unruly legislators releasing tear gas during the meetings.
The latest incident of problem lawmakers took place on Thursday, when members of parliament released two tear gas canisters, threw a glass of water at Prime Minister Isa Mustafa, and aimed red lasers at the interior minister's face, all in protest against a 2015 EU-brokered deal with Serbia.
It's unclear how the lawmakers are managing to smuggle in the canisters, with opposition members saying their method is "top secret," Reuters reported.
Regardless of how the canisters are arriving in the building, the issue has become so prevalent that parliament has already installed new ventilators on the roof to clear the gas.
A police officer checking deputies at the building told the news agency that he believes they hide the canisters on their body, under their clothes.
If that is the case, the government's purchase of a body scanner – the same type used to detect explosives at airports – should help detect the tear gas. The move comes after other security measures have failed.
The purchase will be an upgrade from the current scanners, which would not necessarily detect the canisters because they are typically covered in plastic and rubber, according to the officer.
But the high-tech scanner will come at no small cost to the government, which says it will cost around €270,000 (US$300,000).
The EU-brokered deal with Serbia, which lawmakers have been protesting for months, would guarantee self-government to the remaining Serb communities in Kosovo. The renegade province, which was occupied by NATO in 1999 and declared independence in 2008, has an overwhelmingly ethnic Albanian population.
Serbia, which does not recognize Kosovo as independent, has warned of a "threat to regional stability" if the agreement was not honored.
However, the opposition has demanded the resignation of the Kosovo government over the agreement, which has yet to take effect. It has called on its supporters to protest on March 26.