Kosovo MPs elect new president despite opposition's teargas, petrol bombs attacks (VIDEO)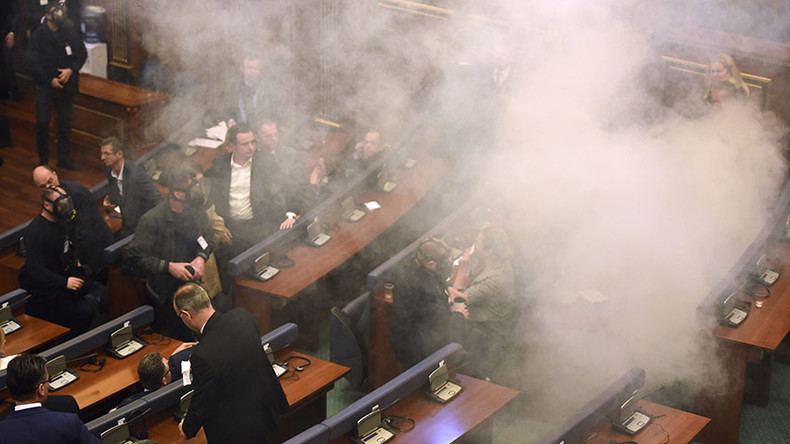 The anti-Serbian opposition failed to thwart a presidential vote in Kosovo's Parliament, where MPs elected the province's fourth leader. Opposing lawmakers threw tear gas canisters, decrying the president elect's intent to expand powers for ethnic Serbs.
Scoring 71 votes in a 120-seat parliament, Foreign Minister Hashim Thaci, who had also served as prime minister, is now replacing Atifete Jahjaga as head of the breakaway province.
"I will always work to serve the country, all its citizens and respect the constitution," Thaci reportedly told the parliament after the vote.
Thaci's election has been, as expected, plagued by attacks by opposition parties, as well as mass protests outside the Parliament in Pristina.
Four hours into Friday's session, several lawmakers hurled three tear gas canisters into the chamber in an attempt to derail the debate, as they oppose the new president's pro-Serbia stance.
Despite undergoing thorough security checks at the entrance, opposition members still managed to sneak in and open gas canisters, causing an evacuation.
The parliamentary session soon continued, but without the participation of 11 MPs who had been ejected from the chamber and barred from voting by the speaker, Kadri Veseli.
An hour later tear gas was thrown in again, in another unsuccessful bid to disrupt the vote.
Thaci fell afoul of anti-Serbian lawmakers when he helped to strike an EU-brokered deal with Serbia which would grant more autonomy to the ethnic Serb minority from the Kosovo government and possibly even financial support from Belgrade.
Meanwhile around 1,000 protesters rioted against the vote in the streets near government headquarters.
Protesters shouted, "Hashim, Hashim we want you in jail!" and "Hashim, the traitor!" Reuters reported.
Police in full riot gear had to use tear gas and water cannon to disperse the crowd. According to the news agency, 21 officers were injured in the streets of Pristina.
"Hashim Thaci's past, and his present, are damaging for the Republic of Kosovo. If you are unhappy with this government, go out on the streets and protest," Visar Ymeri, head of the Self-Determination party, said during debates, as reported by AFP.
Such teargas incidents are turning into regular occurrences within the walls of Kosovo's parliament. The same type of attack took place just recently, on February 19, prompting an almost one hour delay in the proceedings.
The Friday vote was particularly important because failure to elect a new president would have meant that Kosovo would have had to dissolve the parliament and hold snap elections within 45 days, two years earlier than scheduled.
According to some experts, this is what the opposition had been hoping for when it employed the teargas canisters.
"This is ironic in so many ways, considering that Thaci was the leader of the so-called 'Kosovo Liberation Army' (KLA), a NATO-backed terrorist outfit that provided a pretext for the 1999 intervention and occupation," said Nebojsa Malic, Balkans expert and a journalist at RT America.
"He was nicknamed 'Snake' by his fellow fighters, and had the ear of US Secretary of State Madeleine Albright, NATO commander General Wesley Clark, and EU Governor Bernard Kouchner, among others. Yet now the fanatical ethnic Albanians who wish nothing less than annexation by Tirana are accusing him of not being extremist enough."
Kosovo, a province of Serbia, has been under the effective control of a NATO-led peacekeeping force since 1999, when a US-led alliance aided an ethnic Albanian rebellion against the Yugoslav Federation that included Serbia and Montenegro. The province's provisional government declared independence in 2008, which has since been recognized mostly by NATO countries and their allies. Russia does not recognize Kosovo as an independent state.
While the Serbian government has not officially recognized the renegade province's statehood, Belgrade has signed several agreements with Pristina authorities in recent years under the pressure of the EU and NATO.