Balkan route shutting down fast for refugees as Slovenia, Croatia close borders for transit
Published time: 9 Mar, 2016 12:52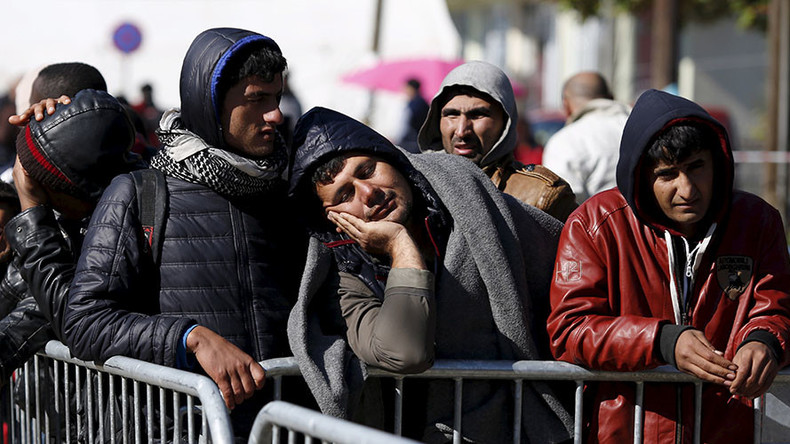 Slovenia and Croatia have closed their borders to most transiting refugees as the Balkan route is slowly sealed. Serbia and Macedonia are expected to follow. The move comes just a day after a tentative Turkey-EU deal and as 34,000 remain stranded in Greece.
The Balkan route has been in use by hundreds of thousands of refugees. It appears that both Serbia and Macedonia will implement similar measures to redirect the flow of migrants as part of a new continental strategy.
Meanwhile, more than 30,000 migrants remain stranded in Greece, awaiting a more coherent strategy from the European bloc.
Slovenia's Interior Ministry said late Tuesday the measure to severely cut the border flow would be implemented midnight.
However, this is not a complete shuttering. The route will stay open to a small minority of foreigners who satisfy all the requirements for entry, as well as those wishing to claim asylum and a portion of migrants who will be vetted individually and in accordance with the Schengen regulations on EU cross-border movement.
The new pan-European strategy comes after Monday night deliberations in Brussels, where members agreed to enforce regulations more stringently.
It was only last Friday that Slovenia has passed new legislation to expedite the processing of asylum claims.
"With the new legislative framework the government wants to enable fast and efficient decision-making about asylum requests," Interior Minister Vesna Gyorkos Znidar told MPs.
But according to Reuters, of the 478,000 migrants who've passed through Slovenia since October, only 460 have actually asked for asylum. The rest chose to continue on to more wealthy nations lying to the north.
Now, every territory along the Balkan route is expected to follow suit – not just EU and Schengen members. Croatia, who is only a member of the former category, confirmed its new role in the collective strategy, and will now only let through refugees with proper EU visas.
"The border of Europe will be on the Macedonia-Greek frontier and we will respect the decisions which were made," Interior Minister Vlaho Orepic told RTL television. The same day Slovenia voted on its new asylum claim procedures, Croatia voted to expand its army's authority in dealing with border issues. About 700,000 migrants had passed through its borders since last September.
Provoked by this strategy, Serbia informed the bloc in a statement that it had no desire to "become a collective center for refugees, so it will harmonize all its measures with those of the EU member states."
Another deal was struck last week between Slovenia, Croatia, Serbia, Macedonia and Austria, which would see the flow of refugees reduced to 580 a day for each country.
Meanwhile, the ink still hasn't dried on Monday's EU agreement with Turkey that many are quite openly wary of. The agreement promises billions of euro to Ankara – which proposed the deal – along with expedited EU privileges and relaxed visa procedures. In return, Turkey gets to take back, and then redirect, all those refugees who sneaked into the EU via its borders.
READ MORE: 'You can't let refugees do nothing': Russia's immigration tsar on EU migrant policies
The deal is yet to take effect, but already several UN agencies, along with Amnesty International and Germany, have spoken of their fear for the refugees' safety. They fear the measure not only breaks both EU and international laws on protection, but will also fragment migration routes, leading to more chaos than good.
Moreover, Turkey hasn't exactly been a team player, its past record shows. Speaking at a UN briefing on Tuesday, Vincent Cochetel, the UNHCR Europe Bureau Director, stressed that "collective expulsion of foreigners is prohibited under the European Convention on Human Rights. An agreement that would be tantamount to a blanket return of any foreigners to a third country is not consistent with European law, is not consistent with international law."
Meanwhile, Amnesty International blasted Ankara's enduring record of leaving refugees to cope alone. It called the EU decision "alarmingly short-sighted and inhumane," noting in a Tuesday statement how Turkey has "forcibly returned refugees to Syria and [how] many refugees in the country live in desperate conditions without adequate housing."
Amnesty's European head, Iverna McGowan, believes that "by no stretch of imagination can Turkey be considered a 'safe third country' that the EU can cozily outsource its obligations to."
As Europe slowly decides on a course of action, more than 30,000 migrants remain stranded in Greece. Border shutters to the north have left them there. Slovenian police said the latest groups to arrive were three days ago. According to the UN, a further 1,500 refugees are now in Macedonia, another 1,000 in Serbia. Right now it looks like they all stand to lose amid the new EU restrictions.