Greek governor urges state of emergency as thousands of migrants stranded at Macedonian border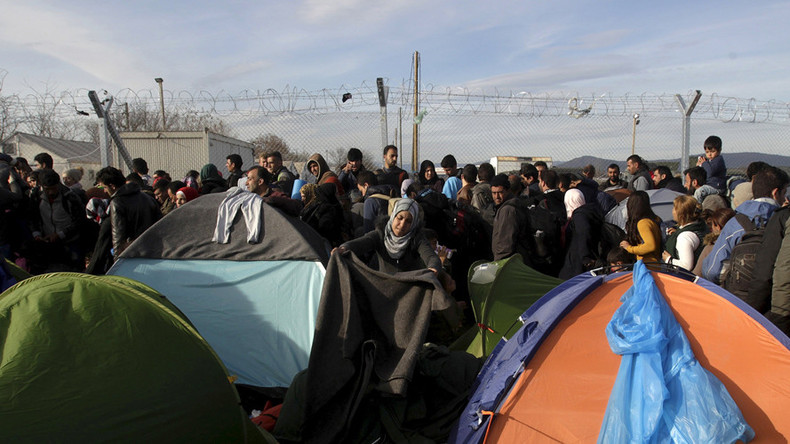 A regional Greek governor has urged Athens to declare a state of emergency at the Idomeni crossing on the border with Macedonia, where thousands of migrants are stranded. The former Yugoslav Republic allows only small groups of asylum seekers across.
The Governor of the Greek region of Central Macedonia, Apostolos Tzitzikostas, said Saturday that his region is unable to cope with migrant influx, which, according to his estimates, amounts to some 60 percent of the total number of migrants in the country.
While the region is equipped to deal roughly with 2,000 migrants, more than 20,000 are now waiting to continue their journey, with some 13,000-14,000 people trapped in Idomeni on the border with Macedonia, with another 6,000-7,000 held in reception centers.
"It's a huge humanitarian crisis. I have asked the government to declare the area in a state of emergency," Tzitzikostas said, reasoning that emergency measures would pave the way to secure emergency supplies and food for those in need. He also called on the government to provide a comprehensive plan on migration crisis.
"This cannot continue for much longer," he said as the neighboring country only let in roughly 300 people on Friday and Saturday. Overall, Macedonia allowed some 2,000 people through its borders in the last two weeks.
"The former Yugoslav republic needs to open immediately to borders and the European Union needs to implement severe action against the countries that are closing borders today, whether they are members of the European Union or candidate members," Tzitzikostas said. "This is unacceptable what they are doing."
Tzitzikostas' plea comes ahead of the European Union – Turkey refugee-crisis summit on Monday, where Tzitzikostas hoped leaders can hammer out proportional distribution between the countries.
Meanwhile Dimitris Avramopoulos, Europe's migration commissioner, announced that "in a few weeks," the Brussels will announce the EU's new asylum regulations to ensure a "fairer distribution of the burden and the responsibility."
But until that happens, the commissioner warned that another 100,000 migrants will arrive to Greek shores by the end of the month.