RT brings you LIVE behind-the-scenes news broadcasts on Facebook and Periscope
Published time: 8 Mar, 2016 23:52
Edited time: 9 Mar, 2016 00:45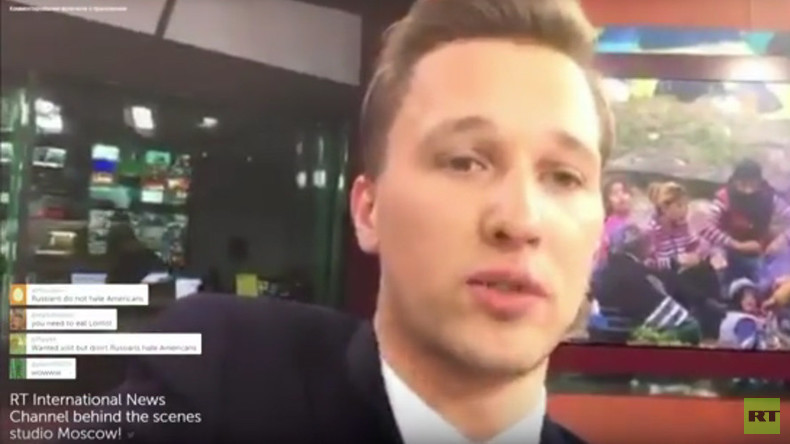 RT is offering its audience a new way to interact with the news. Viewers can now see what goes on behind the scenes of a news broadcast as it goes out on air through a live Facebook stream or the Periscope app.
Facebook launched its livestream function late last year, and it fell to RT anchor Daniel Hawkins to road test it for RT viewers, with more than 6,000 people watching live simultaneously, and tens of thousands more tuning in for at least part of the hour-long broadcast.
Despite admitting that "it's a bit of a multitasking challenge," Daniel did not break his stride while juggling the demands of presenting a news bulletin in front of big studio cameras, and addressing his Facebook audience on an iPhone.
Between introducing reports, Hawkins commented on how the broadcast was put together, staged an impromptu interview with RT correspondent Daniel Bushell, and managed to answer live questions about the difficulties of staying awake to deliver night news bulletins.

In addition, Hawkins, who is also a correspondent at the channel, took viewers on a behind-the-scenes tour using the live-streaming Periscope app.
RT has been actively using Periscope to bring you the most extensive news – be it coverage of elections, protests, or warzones.
Correspondent Lizzie Phelan regularly uses Periscope to broadcast direct from Syria, where she hazards the frontline of the war with al-Nusra and Islamic State with explosions ringing out around her.
READ MORE: Syria LIVE on your cell phone: RT brings unique Periscope streams from conflict zone
RT is the most watched news network on YouTube, with over 3.4 billion views across all channels, while RT's Facebook pages have over 13 million followers.

In the near future, we plan to ratchet up our number of live streams broadcast through Facebook and Periscope, both from our studio and various locations around the world.