Terrorist Anders Breivik 'inhumane treatment' claim rejected by Norway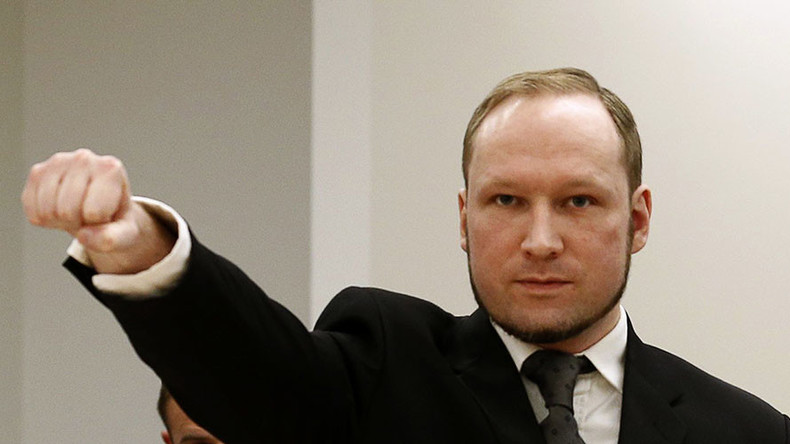 Anders Breivik, the right-wing European terrorist who killed 77 people in 2011 and now enjoys Playstation in prison, had his claim of "inhumane" and "degrading" treatment rejected by the Norwegian government.
Ahead of a hearing later this month over what Breivik sees as a breach of the European Convention on Human Rights, Norway's Office of the Attorney General has defended his jail conditions.
So #Breivik thinks his human rights are violated cuz he only has Playstation in his cell? Give him a week in Rikers, he'd change his mind.

— mel huang (@mel_huang) March 3, 2016
Seriously...Breivik wants a new PlayStation and sues the country of Norway. I can't even. I quit.

— Susanna__ (@SNoSpoons) October 16, 2015
"The measures which have been applied to the plaintiff… are well within the limits of what is permitted" under the Convention, AFP reported, citing a government document published Wednesday.
The document also outlined Breivik's prison conditions, which sees him able to move freely between three cells - one for living, one for studying, and a third for exercise.
The 37 year-old Odinist also has access to a TV, video games, and a computer which is "inhumanely" not connected to the internet.
Breivik can also prepare his own food and do his own laundry.
sure let breivik starve to death, first he is the inhumane shit and now he is whining that the prison is inhumane to him.

— Fish faceSed (@S3Dub) October 1, 2015
While he is not allowed interact with other inmates for security reasons, state lawyer Marius Emberland explained that he is "not totally excluded from all contact" as he interacts with guards and professional staff.
READ MORE: Norway mass killer Breivik admitted to Oslo University political science program
Breivik's lawyer, Oystein Storrvik, argues differently though, stating that his client has been subjected to "longstanding isolation for almost five years" and is suffering "clear isolation damage".
During Breivik's first two years in prison, his mother was the only non-professional to meet him and that was just before she died from cancer.
"They had around five minutes together during which they hugged," Storrvik said.
Currently serving a 21-year sentence, the maximum term under Norwegian law with the exception of selective extensions, his legal team initiated the case last October.
READ MORE: Norwegian mass murderer Breivik to sue Norway, calls isolation 'torture'
This followed a letter he wrote to prison authorities in November 2013 listing a number demands he wanted met or he would "go on hunger strike until death".
It seems Breivik believes his prison abode and its accessories are a little outdated, with one of his demands being a replacement of his antiquated Playstation 2 games console for the sleeker Playstation 3.
@stacyherbert Giving mass murderers like Anders Breivik a Playstation in his cell is equally absurd, there is always a middle ground...

— Michael Geister (@mikegeister) February 23, 2016
In addition to the PS3, Breivik is also seeking to update his games library, which it seems has been lacking a little adult orientation.
"Other inmates have access to adult games while I only have the right to play less interesting kids games. One example is 'Rayman Revolution', a game aimed at three year olds," Breivik wrote.
Breivik also hopes to add a little comfort to his three cells with his request for a sofa or armchair instead of his current "painful" chair.
1. Breivik wants a PlayStation 3 console and a comfortable sofa to sit on while playing it.

— Gbenga Aborowa (@BlackVoltaire) October 13, 2015
The white supremacist mass-murderer, Breivik, wants a PS3 & sofa in his cell or he'll go on hunger strike? Gitmo ? Wow, what an a-hole.

— Red CodeX Concepts (@CodeRedShell) January 30, 2015
"You've put me in hell ... and I won't manage to survive that long. You are killing me," he added.
So, Norwegian killer Breivik is going on a hunger strike for better video games, sofa, and bigger gym. Or else he will die. Hmm, easy, no?

— GeneTouchet (@GeneTouchet) February 19, 2014
Mass killer Breivik says unless he gets "better video games, a sofa and a larger gym," he'll go on hunger strike till he dies. It's a deal!

— Will Saletan (@saletan) February 18, 2014
In 2012, Breivik also raised a number of complaints with prison staff, including a lack of candy, moisturizer, and coffee that wasn't cold.
Furious reading Breivik complaining of cold coffee, no moisturiser & isolation,words can't express my disdain. He deserves no luxuries ever.

— Lucy Thomas (@Lucy_thomas1) November 10, 2012
Anders Breivik: Prison guards driving me to insanity with cold coffee, restricting candy. First world problems.

— newslaundry (@newslaundry) November 24, 2012
The Norwegian mass killer Anders Behring Breivik is complaining about the lack moisturiser in his prison cell. WTF

— Botany (@sid_kane) November 10, 2012
READ MORE: 'Mini Abu Ghraib': Norway mass murderer files 27-page complaint over jail conditions