'Exciting ride back to Earth': Kelly & Kornienko wrap up their 11-month space mission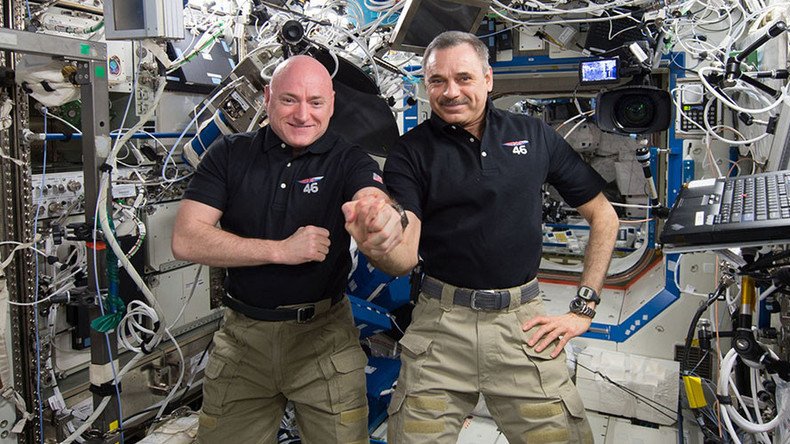 One of the longest and most exciting space journeys is coming to an end. US astronaut Scott Kelly and Russian cosmonaut Mikhail Kornienko who have spent 340 days in space are saying goodbye to the International Space Station (ISS).
Their landing on Earth is scheduled for March 2, at 7:25am Moscow time (4:25am GMT) and will occur in Kazakhstan. Kelly and Kornienko will be accompanied by Russian cosmonaut Sergey Volkov who spent less time in orbit - 182 days. They will be brought down to Earth by the Russian Soyuz TMA-18M spacecraft.
The mission, in which Kelly and Kornienko both took part, could give scientists hints of how to better arrange long space journeys – to Mars, for example.
During their mission, the spacemen conducted almost 400 experiments and even successfully grew flowers on board the ISS for the first time ever.
Over the course of 5,440 orbits they traveled more than 143 million miles – roughly the distance from Earth to Mars – witnessing almost 11,000 sunrises and sunsets. They also helped with or participated in six spacewalks.
Speaking to journalists last week, Kelly said he could spend some more time in space if given a good reason.
"I could go another hundred days, I could go another year if I had to. It would just depend on what I was doing and if it made sense, although I do look forward to getting home," he said at the time, as quoted by CBS News.
"Subjectively, I feel great, and I think it's something that, going to Mars and having people stay in space for much longer than we have before, is clearly doable," he added.
Kelly also paid tribute to the Russian Soyuz spacecraft that is to deliver the crew to Earth.
"The Soyuz is a pretty exciting ride back Earth, no question about it," he said adding that "it's so much fun for me that I said after my last flight, if I'd hated being in space for six months I'd have done it all over again just for that last 20 minutes in the Soyuz. It's that type of an experience."
Kornienko and Kelly will undergo a special 'field test' immediately after landing, TASS reported citing sources in the Institute of Medico-Biological Problems of the Russian Academy of Sciences. The sources said that the tests are necessary to study the physiological capabilities of a man during landing on other planets. The tests will be conducted in a tent specially set up by the Russian recovery forces at the landing site.
"If the participants of six-month expeditions have the right to reject the 'field test', then Kornienko and Kelly will surely undergo it. The test will check the spacemen's physical capacity – the ability to sit, get up from a lying position, to stand still and walk a straight line after a long flight and overload during landing," the institute said, as quoted by TASS.
Earlier, Russian State Space Corporation Roscosmos also said that Kornienko and Kelly would have to leave their lander unaided, thus simulating conditions similar to landing on Mars where nobody would aid the crew.
This mission would be the longest space journey in the history of the US space exploration, but it would not be such in the history of the Russian space studies as four Russian cosmonauts had spent more time on orbit than Kelly and Kornienko.
In 1988, Vladimir Titov and Musa Manarov spent 365 days on Russia's Mir orbital station, while Sergey Avdeyev spent 380 days in orbit in 1999. In 1995, Valery Polyakov spent 437 days in orbit, setting a world record for the longest space flight.
Kelly, Kornienko and Volkov will be replaced at the ISS by a crew consisting of the Russian cosmonaut Yury Malenchenko, NASA astronaut Timothy Kopra and Timothy Peake from the UK. They will be joined by NASA astronaut Jeff Williams and Russian cosmonauts Oleg Skripochka and Alexei Ovchinin on March 19.
You can share this story on social media: