Gorilla suits, storms & space blooms: How Scott Kelly spent his #yearinspace (PHOTOS, VIDEO)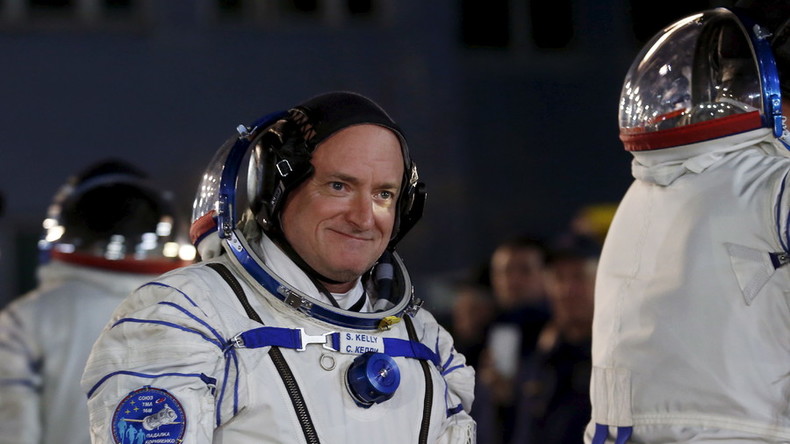 NASA astronaut Scott Kelly and Russian cosmonaut Mikhail Kornienko are due to return to Earth on Tuesday following their yearlong stint aboard the International Space Station, 250 kilometers above the planet's surface.
Throughout their months in orbit, Kelly has been sharing incredible photos and videos of some of the stunning views of Earth he captured on his mission.
'Earth art'

Kelly certainly put his space photography skills to use this year, producing a stunning #EarthArt series for the world to enjoy… and retweet.
READ MORE: Sunset lasts mere seconds in space, Russian cosmonaut shows in ISS video

First bloom

Kelly also apparently took a leaf from The Martian's book by growing the first-ever flower in space, feeding hopes that, one day, mankind can actually grow vegetation in space, while operating longer space missions - including to Mars.

Kelly proudly shared pictures of the zinnia bloom on Twitter.
READ MORE: Russian cosmonaut finds time for selfie while on spacewalk (PHOTOS)

A weatherman from out of this world

No meteorologist on Earth could give a greater perspective when it came to climate updates. Kelly often captured severe snowstorms and blizzards as they gathered above the Earth's surface.
Space fun

There's only so much science you can occupy yourself with while trapped in a tube circling the earth for months on end before boredom kicks in. This is how Kelly dealt with it - first hitting the ping pong paddles...
...and later really, really surprising British astronaut Tim Peake.

(We're just wondering how he convinced NASA to let him bring a gorilla suit on board?)

The 'bumpy' ride home

Kelly and Kornienko's year may have been full of photography and firsts, but their most harrowing journey is yet to come.

Kelly, Kornienko and their colleague Sergey Volkov will begin their return home by squeezing into a capsule inside the Russian Soyuz spacecraft - for a return to Earth known to be something of a bumpy ride, "like going over Niagara falls in a barrel, but the barrel is on fire," NASA astronaut Doug Wheelock told ABC News.

The relatively quick journey will take about three-and-a-half hours (granted at 17,500 mph) and the final 60 minutes will mostly consist of the guys trying to hold down their lunch as they tumble and spin towards their final landing spot in Kazakhstan.

READ MORE: 2015 – a great year in space: RT looks back as ISS crew sends New Year greetings

In case you haven't been following Kelly and Kornienko's #YearInSpace for the last 337 days, here's Kelly's recap on spending this past year in space: