Going bananas? Space ape crashes ISS as crew pulls off prank (VIDEO)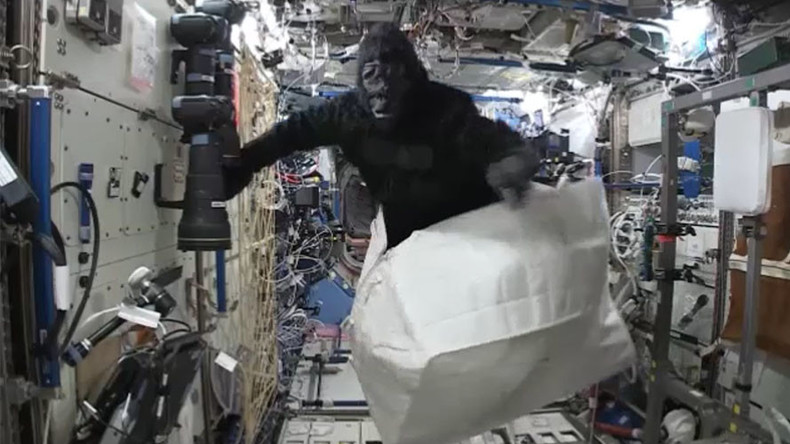 NASA's Scott Kelly pulled a prank on his British ISS crewmate, Tim Peake, who looked completely confused while being chased by the astronaut in a gorilla suit.
Scott Kelly, who is about to finish his year-long mission aboard the International Space Station (ISS), decided to have a little fun before going back home.
The ISS crew shot a video in which the NASA astronaut surprises his colleague by jumping out of a moving bag dressed in a gorilla suit and chasing him around the station's Destiny lab in zero gravity.
"Needed a little humor to lighten up a year in space. Go big, or go home. I think I'll do both," said Kelly in a Tweet.
Not all appreciated the prank video, however. NASA Watch's Keith Cowing, an astrobiologist and former NASA employee, questioned whether the joke was worth the time or resources.
"Well, if nothing else, PeTA finally got a protester inside the International Space Station," he sarcastically noted in a webpost.
"I am all for making the ISS relevant to the public in new ways and for making childish jokes at NASA's expense whenever possible. But given the immense cost of the ISS, its untapped potential for research, and complaints from potential users that there is not enough upmass or crew time, I have to wonder why NASA goes out of its way to highlight such stuff," he said.
The suit was sent to Kelly by his twin brother – a retired astronaut who is currently on Earth. Both underwent tests and experiments for nearly a year. After the mission is complete in March, they will compare their respective stats.