'Historic ruling': Turkish Cumhuriyet editors released after 3 months in jail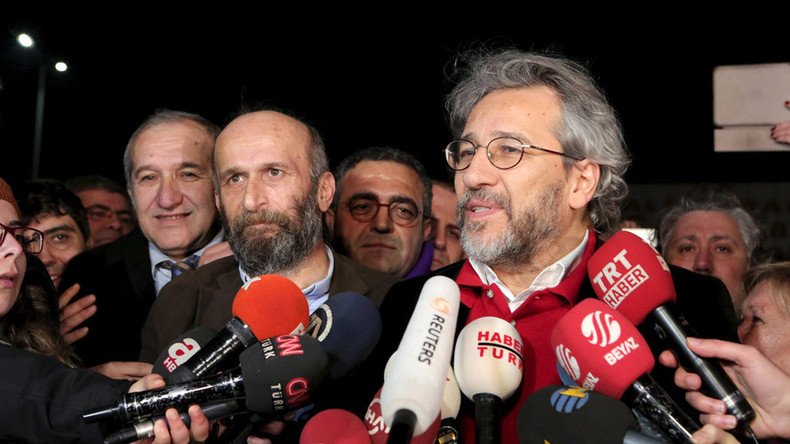 Two Turkish journalists have been released from jail after serving three months on controversial charges. The Cumhuriyet newspaper staffers were detained after publishing a report which claimed to show intelligence officials transporting arms to Syria.
Editor-in-chief Can Dundar and Ankara bureau chief Erdem Gul were released from Silivri jail near Istanbul before dawn on Friday. The journalists, who had been imprisoned since November, were greeted by family and supporters.
"I think that this is a very historic ruling," Dundar told Cumhuriyet as he left the prison alongside Gul.
He noted the irony of being released on the birthday of Turkish President Recep Tayyip Erdogan, who is named as a plaintiff in the case against the journalists. The leader has previously said their report was an attempt to undermine the country's global standing.
"I think it is a nice gift for him. We will continue. We will have nice birthday gifts for him," Dundar said.
The editor-in-chief went on to state that he has no anger related to the imprisonment, but that he will continue to defend press freedom "with a louder voice," stressing that 30 journalists still remain behind bars.
"We will continue to fight for press freedom until the concentration camp (Silivri jail) that you see behind us becomes a museum," he said.
Gul was quick to point out that he does not regret his decision to publish the report, which included videos and photos purportedly showing Turkish intelligence officials transporting arms to Syria in trucks.
"This is not a story of 'I wish I had not done'. It's a story of 'I hope I can continue,'" Gul said.
The two were released after Turkey's Constitutional Court ruled that their "rights to personal liberty and security" and "freedom of expression and freedom of press" had been violated. The decision was approved by 12 members of the court, with three dissenting, according to Turkish media.
However, presidential spokesman Ibrahim Kalin noted that the release was not equal to an "acquittal," AFP reported.
The two must still stand trial to face charges on March 25. They remain under judicial supervision and are banned from leaving the country, according to the state-run Anatolia news agency.
The journalists are charged with obtaining and revealing state secrets "for espionage purposes," seeking to "violently" overthrow the Turkish government, and aiding an "armed terrorist organization." Prosecutors are seeking multiple life terms for the pair.
According to the report published in May, Syrian intelligence officials were transporting six steel containers holding 1,000 artillery shells, 50,000 machine gun rounds, 30,000 heavy machine gun rounds, and 1,000 mortar shells for anti-Assad extremists in Syria.
Erdogan has stated that the trucks, which were stopped by authorities while en route to the Syrian border, belonged to the MIT intelligence agency, and were carrying aid to Turkmens in Syria, who are fighting both Assad's forces and Islamic State (IS, formerly ISIS/ISIL).
The leader has said that prosecutors had no authority to order the trucks to be searched, and that it was a move to discredit the government. The other side has denied that accusation.
The journalists' detainment prompted criticism from international human rights groups, as well as from the EU and US Vice President Joe Biden, who said that Turkey was setting a poor example for the region by intimidating the media. Turkish Prime Minister Ahmet Davutoglu previously stated that the two journalists should be released from prison ahead of the trial.
You can share this story on social media: