Turkish prosecutors demand life sentences for 2 jailed Erdogan critics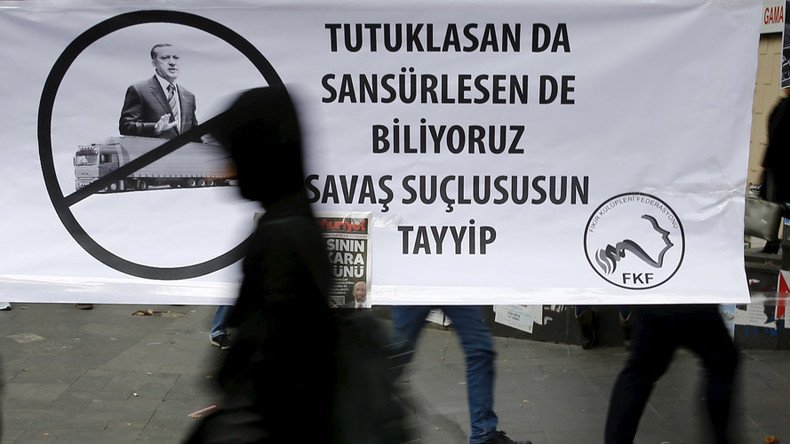 Turkish prosecutors are demanding life sentences for two journalists imprisoned over a report that alleges President Erdogan's government tried to ship arms to Islamist rebels in Syria. The case is being seen as a clampdown on freedom of speech.
Prosecutors want the editor-in-chief of the Cumhuriyet newspaper, Can Dundar, and its Ankara bureau chief, Erdem Gul, each to be handed one aggravated life sentence, one ordinary life sentence and 30 years in jail, according to the Dogan news agency, which saw the indictment.
Both are currently at the Silivri prison awaiting trial. No date has been set yet.
A report by Cumhuriyet had alleged that a shipment of weapons seized at the border in January 2014 was going to rebels in Syria. It also claimed that President Recep Tayyip Erdogan and the head of Turkish intelligence, Hakan Fidan, were both in on the deal.

Footage accompanying the May 29, 2015 story in Cumhuriyet showed police opening crates from the stopped trucks, which appeared to contain weapons. The paper alleged they were headed for Syria to supply the opposition fighters.
These claims led to Dundar and his colleague being put in prison in November 2015.
Dundar and Gul are charged each with one count of "gathering secret state documents for the purposes of political and military espionage," as well as "attempting to topple the government of the Republic of Turkey or attempting to stop either partially or totally the government from fulfilling its duties" and with "deliberate support for a terrorist organization without being a member."
Both President Recep Tayyip Erdogan and the National Intelligence Agency (MIT) are filing the lawsuit, which has drawn widespread criticism at home and abroad. Erdogan filed his lawsuit on June 2, 2015, threatening that Dundar would "pay a heavy price" for publishing the allegation, and saying that the story "included some footage and information that were not factual."
The president denied in a November speech that the trucks contained the weapons, but also added "What difference would it make whether the trucks contained weapons or not?" Erdogan labeled Dundar's actions as treason.
The journalists' arrests sparked protests in Turkey, as well as condemnation from US and European officials who are concerned that President Erdogan and the Justice and Development Party (AKP) government are silencing voices and exerting too much influence over the courts.
You can share this story on social media: